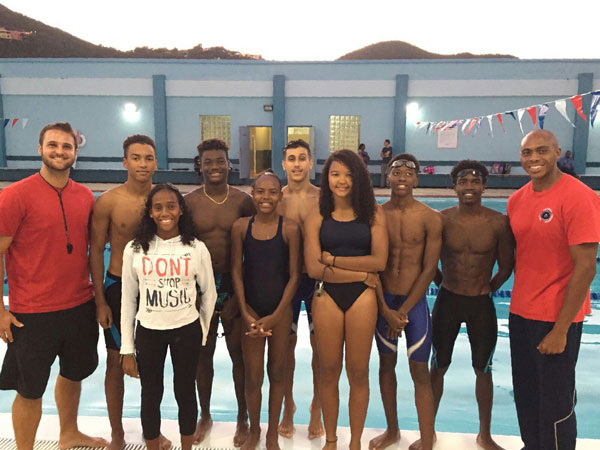 PHILIPSBURG:--- Tuesday March 22nd, 2016 will be the day these 8 athletes have been waiting for. For the past months they have been training hard to represent the St .Maarten National Swim Team at the 2016 CARIFTA games, from March 22nd until March 26th, in Martinique. After a careful selection process, 8 swimmers were selected from the swimming clubs on the island Representing St.Maarten for the first time will be Sharmar Thomas, Kiemoy Fleming, Quinton Cornelius, Justin Williams, Keanu Jacobs Guishard, Sarah Courtar, S'Ade Williams and Gabriel de Vries. The selection will be led by Head Coach Burton Theodora as well as Nicole Maccow and Robbert Schrijvers of the St.Maarten Aquatic Federation (SMAF).
The St.Maarten Aquatic Federation is working hard in putting swimming in St.Maarten on the International map. With its accreditation by FINA (World Swimming Federation), SMAF is the official swimming federation on the island. This means that it supports St.Maarten swimmers participating in international swimming championships. It also means that all participations of St. Maarten swimmers in such competitions need the approval of the SMAF.
During CARIFTA 2016 the swimmers will be competing against 24 other Caribbean Nations. One new addition to this year's CARIFTA games is the possibility of qualifying for the Rio Olympics in 2016.
With all the valued dedication of the parents of the swimmers and sponsors, the athletes and the entire SMAF board are going for a successful Championship in Martinique.