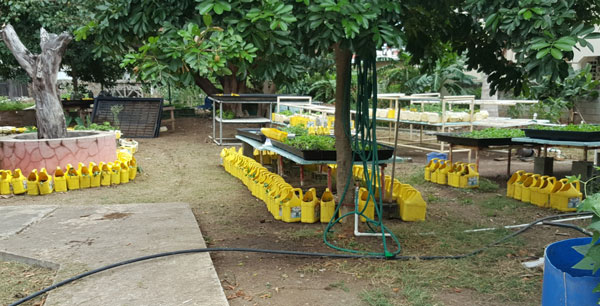 PHILIPSBURG:---- Doctors-in-training at American University of the Caribbean (AUC) School of Medicine set aside their stethoscopes and lab-coats for a day to give Tzu Chi Foundation's recycling and agricultural programme a boost on Saturday, February 20.
A total of 19 students joined 13 Tzu Chi members to volunteers for the programme as part of their annual Community Action Day. AUC students volunteer at various foundations and groups in the local community for their Community Action Days.
For the volunteer activity with Tzu Chi, the doctors-in-training were divided into five different groups and engaged in different stages of the foundation's recycling and agricultural initiative.
The various groups participated in sorting a large quantity of big disposable plastic bottles, cutting and redesigning them to accommodate plants and potted and planted seedlings in the plastic bottles.
Students and Tzu Chi volunteers also prepared agricultural beds and transplanted plants onto them, did some general clean up of the agricultural area and greenhouse, trimmed trees, weeded and re-used all plant-based garbage by composting them for future use as organic manure for the agricultural project.
The AUC students were very enthusiastic about their assigned tasks and displayed good comradely and team spirit during the exercise. "They always stayed focussed and when working, their mindfulness and cooperation was encouraging to Tzu Chi volunteers," observed Tzu Chi volunteer Roger Yee-Fong.
When all the assigned tasks had been completed shortly after noon, all participants enjoyed a vegetarian lunch with drinks, dessert prepared by Tzu Chi volunteers.
Several group leaders from amongst the AUC students shared their experiences and expressed their deep appreciation and enjoyment of the activity and the spirit of community service that they felt during the exercise.
Tzu Chi Foundation Commissioner Sandra Cheung, on behalf of the foundation and all volunteers, expressed great appreciation to AUC and its student volunteers for dedicating their time to this community service initiative. Tzu Chi showed its gratitude by presenting tokens of appreciation to all participating volunteers.
"This event is a prime example of the spirit of volunteerism working to create awareness and also to protect the environment," Yee-Fong said.