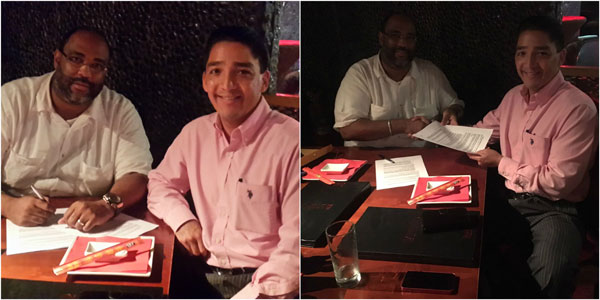 PHILIPSBURG:--- Airline company, AVA Airways again takes another step in the right direction. Chairman of the company, Olivier Arrindell along with other members of Ava Airways team met with AerCap Aircraft leasing and financing company Sr. Director Aircraft Marketing Latin America and Caribbean representatives here on St. Maarten.
Representing AerCap, Mr. Gabriel Sandoval ("Director') whom also paid a courtesy visit to Hon. William Marlin, Prime Minister of St. Maarten to discuss the objectives of his company with Ava Airways. Mr. Sandoval also give the Prime Minister of St. Maarten a full over view of AerCap and its long term plans with Ava Airways.
AerCap (AER) is the world's largest Aircraft Leasing company after acquiring International Lease Finance Corp in 2014. As of December 2015, AerCap had approximately 1,700 owned, managed or on order aircraft in its portfolio. AerCap serves over 200 customers in approximately 80 countries with comprehensive fleet solutions, and provides part-out and engine leasing services through its subsidiary, AeroTurbine. AerCap is listed on the New York Stock Exchange (AER) and has its headquarters in Dublin with offices in Amsterdam, Los Angeles, Shannon, Fort Lauderdale, Miami, Singapore, Shanghai, Abu Dhabi, Seattle and Toulouse.
Ava Airways Chairman, Olivier Arrindell stated that he was happy with the signing of the first agreement with the Aercap and moving forward full speed with a fruitful relationship with the financing and leasing company. Arrindell further stated that St. Maarten has to keep in mind that Latin America and the Caribbean have become one of the most urbanized regions in the world. The region's GDP is currently growing at 3.9% percent per year, a growth rate above the world average of 3.2% percent per year. In the next 10 years, the economy in Latin America and the Caribbean is expected to outperform the world average, while the middle class population is forecast to grow more than 40 percent by 2033, from 278 million to 398 million people and Ava Airways plans to take full advantage of these opportunity and fit the Island right into the benefit.
A strong economy and growing middle class has set the stage for the region's traffic to grow at an average of 4.9% percent annually in the next 20 years, outperforming the world average of 4.7% percent. It's time to create Jobs for our people and build our Economy base on these index number and this is what Ava Airways is all about.
AVA Airways will start its operations with the A319-100 Aircraft types. According to Mr. Arrindell this type of aircraft fits perfect into AVA's operations.
Both Ava's representatives and the Board of Directors were very satisfied with the meeting and are looking forward to the cooperation with one of the world's leading aircraft financer.