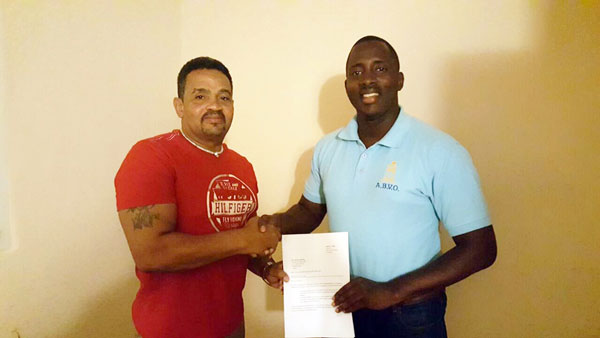 PHILIPSBURG:--- Police Inspector Lyndon Lewis on Sunday, August 7, tendered his resignation from the ABVO-SXM union which clears the way for his venture into the political arena. Lewis will be contesting the September 26 elections as part of the United St. Maarten party (US) list. It will be the first time he will be contesting a political election.
Lewis informed ABVO-SXM President Sharlon Cathalina and ABVO board members that he is moving on to serve the people of St. Maarten on an even greater scale where he hopes to get the opportunity to effect real positive change.
"It was a great pleasure and honor to have served the loyal members of the ABVO-SXM union and non-members in the capacity of Vice President. ABVO-SXM union has proven its dedication to serving its members to the highest degree. I would like to thank Mr. Cathalina for his guidance and the opportunity to have served the members of ABVO-SXM in that capacity. You are a great leader, father, teacher and role model to me and many others," Lewis said.
"This is sad and a happy moment for me. A sad moment to leave the union, but a very happy one, because I have gotten another great opportunity to contest in the 2016 Parliamentary Elections with the United St. Maarten Party (US Party). A political party with a vision, a vision to continue fighting for all of us, fighting for the people of this beautiful country St. Maarten," he said.
Inspector Lewis noted that he was proud of his service to the entire Justice Ministry and other Ministries and private sector employees including those at SXM Airport, Winair, Menzies, and Kooiman. In total over 600 members.