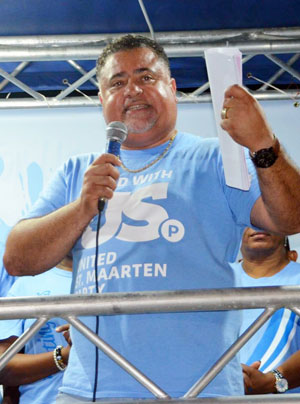 PHILIPSBURG:--- Leader of the United St. Maarten (US) party Member of Parliament Frans Richardson on Sunday said the party has been inundated with calls and meeting requests with civil servants who are relaying the various issues they are facing in terms the functioning of their respective departments.
The MP said that since it is becoming clear to everyone that the USP is getting things done for the civil servants under the Justice Ministry, other civil servants have been contacting party leadership to see if there is anything that can be done for their long-standing issues. The USP currently hold political responsibility for the Ministry of Justice in the current governing coalition.
"It's too many issues to recall," Richardson said. "Of course, we are always open to listening to our people. With the civil service there exists various avenues to resolve issues, however, sometimes it takes strong political will and clear directives to get things resolved and moving. I can assure the civil core, that the USP does not make assurance it cannot honor. Should we be blessed with the opportunity to govern, we will apply a general operational principle to the civil core just as we did with the Justice Ministry: put your people first," he said.
The MP noted that civil servants often gets a bad rap and are criticized relentlessly. He noted however that while not everyone is perfect, in many cases the civil servants are victims of the systems they work with and/or unresolved issues that affect morale. If the civil service is to faithfully deliver and execute their tasks, then government's obligation is to ensure their environment is conducive to efficient work.
"The best civil servants are hard-working and dedicated to public service. Their work goes hand-in-hand with changing our country because if we are talking about changing the way government works, they are the people at the forefront of the change. There are young academics coming into the civil service now so we have to make sure that they and their colleagues aren't held back by a system breed inefficiency," Richardson said.