MAHO:--- (DMF) DOW MUSICAL FOUNDATION and EBONY STEEL ORCHESTRA 25th year annual concert celebration took place on Monday night December 26th, 2016 at Maho Royale Ballroom.
The Tallahasse-St. Maarten Foundation Inc. (TLH-SXMF) presented an award to Prime Minister William Marlin under the banner of: POLITICIAN OF THE YEAR 2016.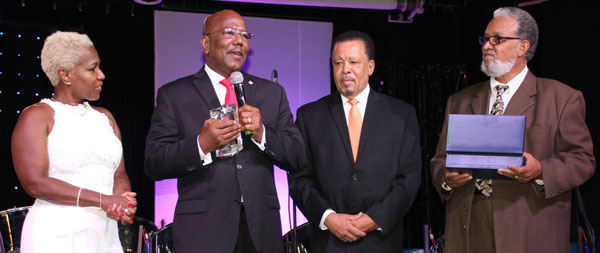 "The house was packed to capacity at the annual Steel Pan Concert and extravaganza celebrating the DOW MUSICAL FOUNDATION and EBONY STEEL ORCHESTRA 25th concert anniversary," according to TLH-SXMF Executive Director Arthur Lugisse.
Lugisse continues: "Current Prime Minister of Sint Maarten William Marlin was first sworn in on November 19, 2015 and after serving one year he was again recently sworn in on December 20, 2016 as Prime Minister in the Red, White and Blue coalition government comprising of the Democratic Party, the National Alliance and the United St. Maarten Party.
"William Marlin entered the political arena over 35 years ago, as one of the founding members of the St. Maarten Patriotic Movement – SPM on December 15, 1979. It however, took him until 1987 to win a seat in the Island Council of Sint Maarten. He has served ever since, uninterruptedly as a Member of the Island Council, a Commissioner, a Member of Parliament of the Netherlands Antilles and since 2010 as a Member of Parliament of Sint Maarten and as Minister and now Prime Minister.
"Following the referendum of 2000 Sint Maarten had been negotiating to obtain a new status within the Kingdom. Marlin became Commissioner on June 8, 2009 with responsibility for Constitutional Affairs and within one year he secured a change in our constitutional status and Sint Maarten became a Country within the Kingdom on October 10, 2010 – also referred to as 10-10-10.
"Even though Marlin steered his National Alliance party to an unprecedented clean sweep in the last election for the Parliament of the Netherlands Antilles in January of 2010, winning all three seats allotted to Sint Maarten and in the first election for Country Sint Maarten held eight months later, the National Alliance captured seven of the 15 seats, but his party was left out of government.
"In May of 2012, following the breakup of the country's first coalition Marlin was sworn in as Minister for the first time in a government that lasted for just one year, as Minister of Housing, Spatial Planning, Environment and Infrastructure. He was also the Deputy Prime Minister.
"Following snap elections held on September 26, of this year, the National Alliance, again led by its leader William Marlin, captured five of the 15 seats and the same Red, White and Blue coalition of the Democratic Party, the National Alliance and the United St. Maarten Party, remained in office with William Marlin once again taking the oath as Prime Minister for the second time.
"On July 2, upcoming, William Marlin hopes by the grace of God to celebrate 30 years of uninterrupted elected service to the people of Sint Maarten. Marlin has accomplished much for the people of Sint Maarten. In his first years as an opposition Member in the Island Council he forced government at the time to be more accountable to the people and to be more transparent; "Let the People Know" was continually heard coming from him on the floor of the Island Council. And as Commissioner and Minister, Marlin was always identified with, "A Promise Made is a Promise Kept!
"His most recent promise that was made and kept was to complete the New Government Building and move in. William Marlin has quite an impressive list of accomplished, just to mention a few:
• He bought land to build, schools, homes, community centers
• He spearheaded the first and only expropriation of property for the construction of Link 1, which has helped to alleviate traffic
• He also negotiated for the free transfer of much needed land for the construction of Link 1
• He secured the transfer of the Great Salt Pond from the Central Government for a mere 1 Guilder
• He secured the water rights from the Central Government for the construction of the St. Maarten Port
• He had the Mighty Bin created and secured the first garbage bins on St. Maarten
• He initiated the Road Paving Crew and paved most of the dirt roads on the island
• He cleaned up the Fort Willem Area, hooked all the homes to the sewage plant, paved all the roads and put all cabling underground
• Marlin secured the funding for the isolation of the garbage dump to prevent further pollution of the Great Salt Pond
• Marlin installed street lights and built Round-A-Bouts to alleviate traffic
"William Marlin has a long list of achievements while serving the people of Sint Maarten selflessly, and we are confident he will get so much more done. This is the first time William Marlin will be in government at the start of a four year term.
"For the first time, we have chosen a Politician of the Year and we are proud of the choice we have made in the person of William Marlin, our current Prime Minister of Sint Maarten."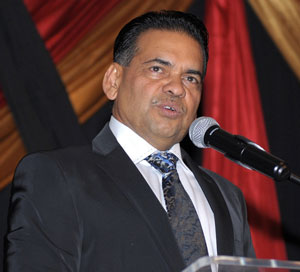 The St. Maarten Tallahassee Foundation Inc. in collaboration with DMF presented its Veteran Businessman of the year award to Imran McSood Amjad on December 26, 2016.
"For over 30 years a young man who came to St. Maarten with all his zeal, vigor, vitality and educated to the core, was able to partner with a few prominent St. Maarten businessmen and build the still existing Nagico Group of Companies in St. Maarten and the Caribbean. Not only did he create a giant in the Caribbean with NAGICO INSURANCES but also expanded to real-estate and the Auto Business.
"His success in business has been applauded by many and the Tallahassee- St. Maarten Foundation Inc, see it as A SUCCESS STORY to honor Imran McSood Amjad."
The Tallahassee-St. Maarten Foundation Inc, also seized the opportunity to present a well deserving award to the Might Dow on behalf of the Dow Musical Foundation celebrating their milestone concert for quarter of a century.
Mighty Dow organization DMF for their 25th Anniversary of their Steel Pan Concert "Pan in Paradise"
"The DMF event was a tremendous success. The regional invited guest gave some classic renditions that you would take your hat off to. The mighty Dow also did a masterpiece solo tune that was enjoyed by everyone showing is super talent on Steel Pan.
"Well wishes and words of complements cannot explain what the youth of EBONY STEEL ORCHESTRA did! They brought the house down, rendition after rendition. They were fabulous and we could not ask for more as they really did a spectacular job of pan playing. St. Maarten youth has talent and more support should be showed towards them and DMF. In 365 days December 26, 2017 they will be celebrating again bigger and better bringing Steel Pan Music extravaganza.
"When we look at the Mighty Dow 24/7 contribution to our youth we see one accomplishment that is presently needed to create a DMF Academy building to enhance his efforts and his ongoing teaching to our youth.
"DMF is looking forward for the continued support of both Public & Private sectors to embrace their efforts to enhancing our Culture by way of the musical art form of Steel Pan Music.
"The Mighty Dow took a group of 15 youngsters to Hollywood, Los Angeles, in 2006 to participate in Kemet Production's, "Road to Stardom".
"Besides his local performances, he has performed in Aruba, Curacao, Saba, Antigua, Anguilla, St. Kitts/Nevis, St. Thomas, St. Eustatius, St. Barthelemy, Martinique, Puerto Rico, Colombia, the Netherlands, New York, Trinidad and Tobago, Mexico, Texas, North Carolina, San Diego, England, Canada, Hollywood California, Cuba, Suriname, and Hawaii.
"Dow gave credit to and praises his father, steel pan maestro, Chester York, for his influence on his musical career. He recollects that his father was not keen on his children focusing mainly on music and pushed them more towards the academic field. However, Dow's love for music and his consistency and undoubtedly his outstanding ability to create, compose and arrange music, has paid off and made us all proud.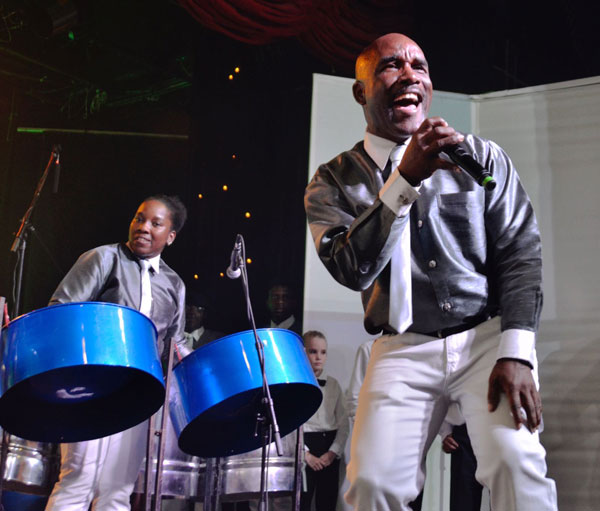 "Not only is the Mighty Dow considered one of the best steel pan players in St. Maarten but also the driving force behind training the youth to play steel pan which he started learning at the tender age of eight. The Mighty Dow always acknowledged and contributed his ongoing success to his Father Chester York, his wife Ruth York, his children, brothers, extended family, friends, and the people of Sint Maarten.
"Today he has a school DMF with over 1000 kids, and due to that growth he presently brought in teachers to assist with the training of the students and continue to showcase their efforts and skills by way of an annual Steel Pan Concert and extravaganza every year, December 26th, celebrating the DOW MUSICAL FOUNDATION and EBONY STEEL ORCHESTRA Steel Pan Concert PAN IN PARADISE."
The Tallahassee -Foundation President Bernard Hunt and Executive Director Arthur Lugisse continue to market and promote Sint Maarten's positive citizens and organizations.