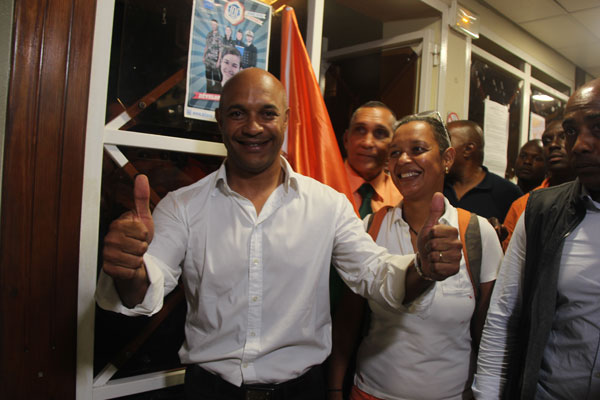 St. Martin marks history with two political parties in opposition.
MARIGOT:--- The voter's turnout in the second round of the territorial council election remained low on Sunday even though the three political parties that contested the elections pleaded with voters to go out and cast their votes. Of the 20285 voters that are registered to vote only 9,166 persons voted a mere 45.2%. Of that amount, 8857 were valid votes, with 166 blank votes and 183 invalid votes.
Team Daniel Gibbs 2017 captured 5,696 votes. The orange and green party won in each of the 19 polling stations. Coming in second was the Alliance for Hope, Justice, and Prosperity led by Loui Mussington and Jules Charville with 2,139 votes while MVP led by Alain Richardson captured 1,022 votes. With these scores, there will be two opposition parties for the next five-year term.
Team Gibbs 2017 gathered more votes in the second round which gave him an astounding victory Sunday night. It's clear that the people of St. Martin wanted a change, mostly the population seems to be disgusted and has partially given up as life is not getting better for them. St. Martin opted to become a Collectivity 10 years ago and while many politicians promised to make changes to the Organic Law which does not fit the island's landscape none of those politicians did not deliver what they promised. One of the things businesses and local entrepreneurs are looking forward to is the reduction in taxes, more job opportunities, and an overhaul in the economic sector.
Second Vice President Guillaume Arnell gave out the preliminary results around 10 pm in the absence of President Aline Hanson who did not show up on Sunday due to her health conditions. Arnell asked the people of St. Martin to keep the President in their hearts and reminded them that President Hanson did what she could with the means that were given to her. He thanked the people for the peaceful election process and his colleagues in politics for a fair and clean campaign.
Alain Richardson of MVP in his remarks reminded the people that it has been 4 years he was not in office and even though he does not know how many seats his party will get, he promised to work in the interest of the people and his country from the opposition benches. Richardson also sent out a word of thank you to President Hanson whom he said they have in prayers.
Loui Mussington from Alliance for Hope, Justice, and Prosperity did the right thing by joining hands to contest the second round of the election. Mussington and Charville said that they will work forcefully in the interest of the people from the opposition benches. They also made clear that there is a lot of work to be done for the country.
Supporters of TEAM DANIEL GIBBS 2017 converged at the Collectivity of St. Martin Sunday night when it became clear that the party they supported came out victorious with a very large margin over the two other parties that contested the second round of the territorial council election.
As Gibbs took the stage with his team, his supporters could not hold their breath, they began to scream and rejoicing over their victory. Gibbs thanked his supporters and close relatives including his wife and immediate family. He also reminded the people that St. Martin is the "Friendly Island" with 120 nationalities and it's both French and Dutch. The incoming President assured his supporters that his team is ready to work, they were waiting for this victory. He promised to deliver to the people what he promised them on the campaign trail. Gibbs said while his team is ready to work and he will welcome anyone with open arms that are ready and willing to work in the best interest of St. Martin, after all, it is about St. Martin they all want to work for and the people of this island.
Gibbs became emotional when he had to refer to President Aline Hanson his former teacher and colleague. He called on his supporters to keep her in their heart and thoughts as she is not well. Daniel Gibbs almost shed tears as he spoke of President Hanson, however, he quickly pulled himself together and continued with his remarks mostly thanking his supporters and letting them know that he and his team could not have done it without them and their supporters.

Click here to view photos of the 2nd round of the Territorial Election 2017