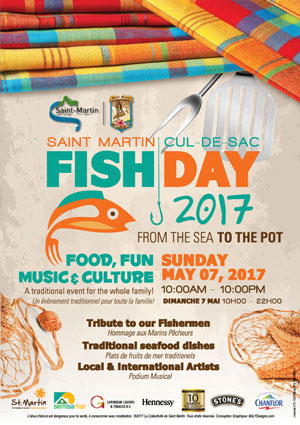 MARIGOT:--- The Collectivité of St-Martin is happy to invite you to its famous FISH DAY, on Sunday, May 7th from 10 am to 10 pm, in Cul de Sac. The Fish Day is a major annual event in St. Martin. For the fifteenth consecutive year, the Collectivité of St. Martin invites locals and visitors to come and spend a day of fun and relaxation while enjoying nice fish or seafood local dishes.
Prepared by the Collectivité of St Martin, the program of this 15th edition will offer you great entertainment. The traditional tribute to fishermen will start the day. Music fans will have a large choice with an eclectic musical scene led by our local talented artists and the Caribbean Soca band from Barbados KrosFyah, performing from 4 pm to 10 pm (Production by our partner Step Up Prod).
As every year, the Collectivité will provide a free shuttle service between the parking lot in Hope Estate to Cul de Sac pier. This is to offer our visitors an easy access to the site. FISH DAY will be completely secured, with a checkpoint at the entrance and a security service throughout the day.
The Collectivité of St-Martin and its partners – Caribbean Liquors & Tobacco (CLT), Tourism Office and Semsamar - expect to see you on Sunday, May 7, 2017, in Cul de Sac.
Food, Fun, Music and Culture, bring your family and friends to celebrate the 15th edition!