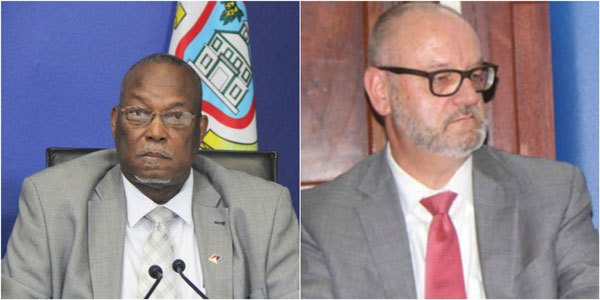 Parliament calls Chief Prosecutor Ton Maan and Minister of Justice Rafael Boasman.
PHILIPSBURG:--- The Minister of Justice Rafael Boasman and Chief Prosecutor Ton Maan are now in the hot seat as the Public Prosecutor's Office intends to play judge and jury with the formation of the Assets Recovery Team.
Even though former Minister of Justice Edison Kirindongo got the Council of Ministers to approve the implementation of the team, the same factions that formed that government, when the Council of Ministers signed off on the advice of the Prosecutor's Office, have teamed up with the United Peoples Party to call for an urgent meeting of Parliament, whereby current Minister of Justice Rafael Boasman and the Chief Prosecutor of St. Maarten Ton Maan were invited.
The four factions namely, the National Alliance (NA), the Democratic Party (DP), United St. Maarten People's Party (USP) and the United Peoples Party (UPP) submitted a letter to the Chairlady of Parliament calling for an urgent meeting to discuss the matter.
The letter was signed by Deputy Leader of the UPP Franklin Meyers, drs Rodolphe Samuel (NA)
Frans Richardson (USP) and Perry Geerlings (DP).
On May 4th Chief Prosecutor Ton Maan and Minister of Justice Rafael Boasman met at Rhythm and Booze in Simpson Bay to inform various department heads and Secretary Generals of the newly launched team called the Afpakteam) that is already operational in Curacao and Bonaire.
Earlier that same day spokesman for the Prosecutor's Office Norman Serphos informed members of the media of the launching while he also gave some explanation on the team. It should be noted that the Prosecutor's Office does not intend to use the penal code to deem persons as a suspect but they will conduct their own investigation and seize assets they believe certain people obtained illegally. The laws the Prosecutor Office intends to use is the tax laws of the country.
Even though the previous Council of Ministers gave approval and the current Minister of Justice launched the team the parliament of St. Maarten was not consulted on the implementation of the team and its core functions. It is clear from the signatories of the letter calling for the meeting that the former Council of Minister's did something they regretted and the only way to stop the process initiated by the Prosecutor's Office is to get the Parliament of St. Maarten involved.
Click here to view the letter sent to the Chair of Parliament on Monday, May 15th, 2017.