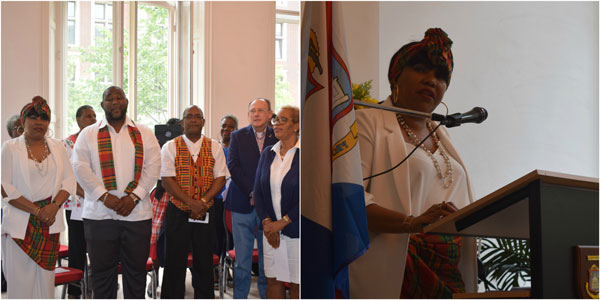 THE HAGUE/PHILIPSBURG:--- Over the past weekend, scores of Sint Maarteners, attended the 1st of what will now be, yearly Emancipation Day celebrations, at the Cabinet of the Minister Plenipotentiary in The Hague. The packed programme event, started with words of encouragement and a prayer, by Rev. Dr. Keith Lewis of the Holland Methodist Church, the formal address by Minister Plenipotentiary Henrietta Doran-York, a genealogy presentation by former Minister Plenipotentiary Mathias Voges, song and dance by Ms. Violet Lake together with The Gwendis Group and Choir, a poem and shared testimony by Ms. Edna Illidge and poetry by Ms. Edwina Hodge. The MC for the event was Ms. Kelly Busby of the Cabinet. The event was a success and saw many Sint Maarteners from as far away as e.g. Nijmegen, Emmeloord, and Amsterdam, who were all very eager to be able to get to reunite or get acquainted with each other. The ever famous "who yuh fuh?" question could be heard throughout the event.
The official segment of the event closed off with the attendees, mainly decked out in folklore or African-themed clothing, getting to their feet and enjoying the song "who yuh fuh" of Kenyo Baly, the 2017 Carnival Soca Rumble category winner, of Sint Maarten.
The idea of Minister Doran-York is to make this very important event, an event where Sint Maarteners and friends can come together on this day, to recount, reminisce and celebrate Emancipation the same as is she has seen done by many different cultures in The Netherlands.
The address of Minister Plenipotentiary Henrietta Doran-York to the people of Sint Maarten can be seen below.