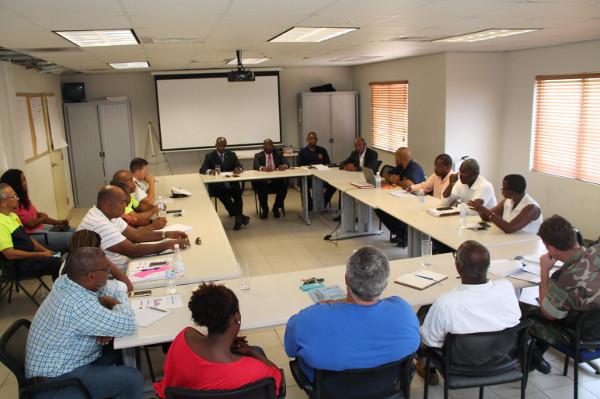 CAY HILL:--- On Friday, October 6th the final Emergency Operations Center (EOC) meeting was held at the Fire & Ambulance Building, marking the end of the emergency response to Hurricane Irma. The next phase will be the road to recovery, which entails the rebuilding of Sint Maarten.
The EOC was called in to action on September 1st in preparation for the approaching Hurricane Irma. Since that time the EOC has met regularly and at the peak of the response at least once daily. The EOC consists of 10 Emergency Support Function (ESF) Groups led by Prime Minister William Marlin as Chairman of the group.
In the last official meeting following Hurricane Irma, each ESF representative gave a brief summary of the current state of affairs which was followed by words of gratitude by His Excellency Governor Eugene Holiday, Prime Minister William Marlin and Minister of Finance Richard Gibson for the work done Post Hurricane Irma.
At a later date, the EOC will reconvene for an evaluation on possible changes to ensure better preparedness in response to future disasters and to follow up and give updates with respect to the ongoing recovery efforts.
DCOMM Press Release