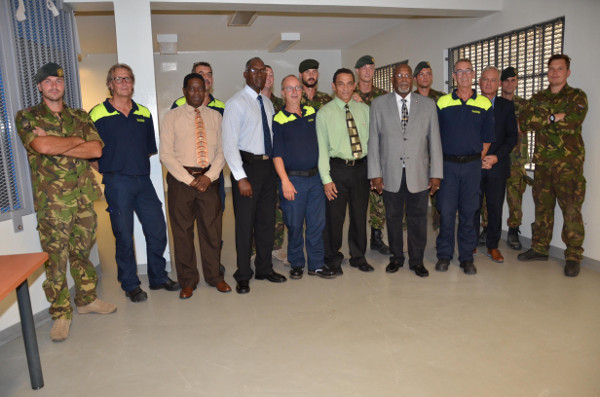 SIMPSON BAY:--- On Friday, October 27th, the detention facilities in Simpson Bay were re-opened for use.
The building suffered damage from Hurricane Irma and was in need of repairs prior to the storm, so the ministry made use of the opportunity to complete the necessary repairs.
During a brief ceremony held at the facilities, Minister of Justice, Rafael Boasman was full of praises to the Genie (engineers from the Dutch army) for their assistance and cooperation in getting the facilities ready for use.
The Genie made repairs to the roof, the camera system, the bathrooms and the beds.
The Minister thanked the Genie on behalf of the government and the people of St. Maarten.
"I thank you for your assistance during these trying times. You have worked tirelessly, not only here at this facility, but you were seen on rooftops, at schools and other places around the island. It showed good cooperation."
The Minister invited the Genie to visit St. Maarten again, not for hurricane repairs, but as tourists.
On behalf of the Marines, Sergeant Mark, an engineer from the Dutch army handed over the keys to the Minister of Justice who turned them over to the two prison directors, Wilfred Williams and Steven Carty.
Present at the short ceremony were: Minister of Justice, Rafael Boasman, Prison Directors Wilfred Williams and Steven Carty, representatives of the Minister's Cabinet Len Dijkstra, Khalil Revan and Fernando Clark and the engineers of the Dutch army.