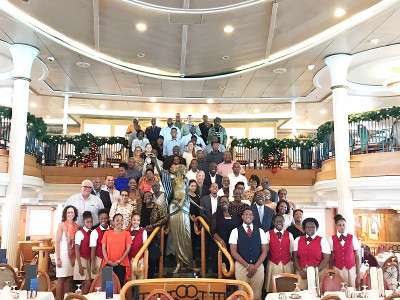 PHILIPSBURG:--- Minister of Tourism and Economic Affairs Mellissa Arrindell-Doncher on Sunday welcomed Royal Caribbean Cruise Lines (RCCL) and its ship Grandeur of the Seas back to the shores of St. Maarten calling the occasion a "great early Christmas gift for St. Maarten."
The Minister was joined aboard the ship by almost 100 persons selected as hurricane heroes by her cabinet. The hurricane heroes initiative came from RCCL executives who wanted to make the company's return to the island a memorable one and an occasion that showed that RCCL stands with St. Maarten by recognizing some of those who went above and beyond.
The heroes came from the hotel sector, Police and Fire Departments, nurses, GEBE, airport management, airport Air Traffic Controllers, Port St. Maarten, volunteers that distributed food supplies through Ministry TEATT, the business sector and more. The Minister also chose to recognize individuals such as Marvio Cooks, Claudius Buncamper, John Caputo, MP Ardwell Irion and others for their selfless work in the aftermath of hurricane Irma. Students of the Charlotte Brookson Academy were also present to sing the St. Maarten anthem.
"What a great early Christmas gift for St. Maarten. To welcome back Grandeur of the Seas and Royal Caribbean Cruise Lines to our shores is truly an occasion worth celebrating during a very challenging period in our history," the Minister said.
"The resilient people of St. Maarten continue to rebuild our beautiful island day by day. We are under no pretenses that restoring our island to its glory will happen overnight. But it is good to know that we have partners such as RCCL to help us get there. We truly appreciate the confidence shown in our destination by RCCL and its willingness to do whatever the company can to assist in our recovery. The Grandeur of the Seas and its passengers will help us get there that much quicker," she added.
She continued: I also want to thank RCCL for its kind gesture in recognizing some of our hurricane heroes today. There are many people who did extraordinary things before, during and after the storms. People who sacrificed themselves to serve the general population. These folks came from all walks of life, from the private sector, public sector and more. We cannot realistically honor all of them today, but to those who are here we say thank you for your selflessness and your sacrifice. The people of St. Maarten are better off today because of your efforts. Thank you to RCCL for recognizing our own."
Press Release from the Ministry of TEATT