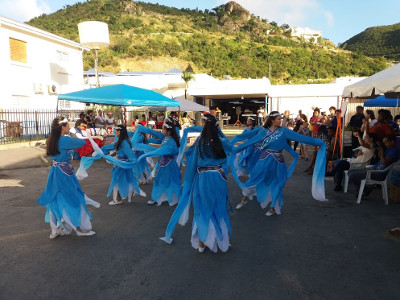 PHILIPSBURG:--- The annual Christmas Market hosted by the Philipsburg Jubilee Library on December 21st, 2017, was a huge success.
The Christmas Market hosted 28 booth holders. Past & present booth holders came out with new original ideas and incentives adding to create a greater market for 2017 and promises to return in 2018.
Individual decorated stands offered; gift baskets & boxes, Christmas cards, bird feeders, homemade costumes, jewelry, bottle décor, fruit cakes, ponche crema cake and liqueurs, cashew cakes, peanut, pistachio punch and Christmas Caribbean homemade eggnog.
The Christmas market was officially opened with a few words by the Director of the Philipsburg Jubilee Library, Mrs. Monique Alberts, followed by Christmas Carols sang by Mr. Carlson Velasquez and John aka "Faith-Fefe" Hyman. Children from Alexander's Early Stimulation and Development Center performed lyrical dances and sang a Christmas Melody. DJ Tariq was on hand with music to make the event lively. Generation New Status Band drummed and Santa Claus made his appearance. No one knew how he got there. Ho, Ho Ho. "Rare Diamond" a teenage dance group with students from Sundial School did some of their dances and from the Chinese community we had the"Tage Classical" dancers. Malaika Advani represented the Indian community by dancing Bollywood fusion. The "Psalm 100" singing duo closed off the event.
Various book authors and local producers were represented with booths including the, islands very own, Dennis Timothy Dowling from Art House St. Maarten, with his very first Book "the Truth about Monsters", Loekie Morales from the Beyond Writing Foundation, with her newest bilingual book Chella and the Weird woman"/ "Chella en het vreemde vrouwtje", and Atahlia Daye-Rogers from Write the Vision Production Foundation with DVD's from the play "Mothers know best".
The library sold copies of it's picture book "S'Maatin Then and Now" which is currently still on sale at the Philipsburg Jubilee Library.
The library also presented is newest service "Libby". "Libby" is a user-friendly app, since Overdrive in 2013, which makes it possible to download e-books in less than a minute by following a few easy steps.
Christmas market 2017 was meant for everyone and persons from all cultures that are born here or born to be here on our lovely island St Maarten. The day was filled with joy and Christmas cheer, a celebration of thanksgiving after the passing of the hurricanes. All cultures came together in harmony.
In addition, the Philipsburg Jubilee Library would like to remind the community of its new post-Irma opening schedule. The library is now open from Monday to Friday, from 9 am to 5 pm and Saturdays from 10.00 am to 1.00 pm.
The Library would like to thank all persons who made the library's programs throughout 2017 possible: from the book launches, book donations, presenters in our quarterly town hall discussions under the theme name "The Power of Knowledge series", our collaborative partners in SXM Reads Literacy program, straight to the Christmas Market in December 2017. Without you, whomever you are, it would not have been possible. Thank you.
The staff of Philipsburg Jubilee Library, appreciates the patronage of all library visitors throughout the past year. Together we are St. Maarten Strong, we are always going forward. We as a Library are looking forward to a new year in 2018 of promoting literacy and education throughout the community. The board, management, and staff of the library wish everyone a happy, safe and readable 2018.
PJL Press Release