~ Says tourism must work for more people ~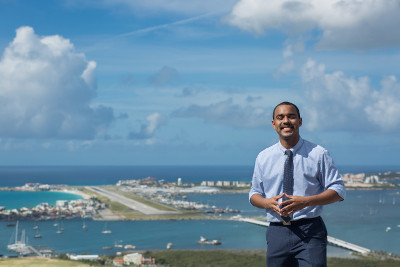 PHILIPSBURG:--- Rolando Brison, on Wednesday shared his plans and insight into his campaign slogan "Making Tourism Work For You" that primarily focused on St. Maarten's tourism product and how it can and should benefit every citizen directly, through job creation and/or economic gains. Brison, current Head of the St. Maarten Tourist Bureau (STB) is contesting the upcoming Parliamentary Elections on February 26 with the United St. Maarten (US) party as the party's #4 candidate.
"Tourism can and should do more for our people and our communities. We just need people who can translate St. Maarten's tourism product into real economic opportunities for all," Brison said. "My platform is built on ideas and initiatives that I believe can truly and finally make tourism work for more of my fellow citizens and open up opportunities for industry entrepreneurs. I have a passion for tourism. It is now a billion-dollar industry for St. Maarten. But how many of our people really benefit from that?"
"A good tourism product works best in a diverse economy. Although I'm for tourism I will also be talking about economic diversification, because if we over saturate the product and over-depend on it, it could lower the quality of the product and make it harder for us to ensure it benefits everyone. So Making Tourism Work For You is also about economic diversification, getting technology as a business, getting agriculture, sports ect involved, it all translates into jobs and direct economic benefits," he said.
He said over the next few weeks his campaign will elaborate on all plans using all media and his campaign website. He intends to release a video about each plan every Thursday via social media, while simultaneously uploading the details of each plan to his campaign website. "It is not only important to tell people of your plans for change or improvement, but my team and I intend to focus on how these plans can be accomplished," Brison said.
The website is: www.rolandobrison.sx
Topics that will be elaborated on in the coming weeks:
District-Based Tourism
Tourism development on St. Maarten is now necessary to compensate for the large product-loss suffered after Irma. There is a growing sentiment on the island that tourism does not benefit individuals, but rather large corporations. The country needs to find new ways to have tourist dollars reach the less fortunate and developing entrepreneurs. Bringing tourism to the districts is one such way.
A Sustainable Development and Economic Diversification Committee for Parliament
St. Maarten has recognized its need to diversify its economy, especially in the wake of Irma where the island has taken a hit in tourism. While St. Maarten will always have a tourism product, identifying other industries that can sustainably developed on the island, with minimal leakage (as much money as possible stays within the economy) and to the benefit of its people, this should be a number 1 priority by both the legislative and executive branches of government.
Junior Tourism Authority
To compound the fact that tourism is not as a prominent subject in schools (see related goal for Tourism in Schools), our youth has very little involvement in tourism initiated by government. The youth often feel that they do not have a voice about what they think tourism means to them, and what the island should look like in the future from a tourism perspective.
Tourism Support for Sports
There has been a lot of talk about sports tourism being an important tourism development that needs to take place. However, the issue has been that sports itself must be developed on the island first – so your product development - before it can be promoted internationally as a viable product. The problem with marketing sports tourism is that if tourism funding does not also partially go into the development of sports itself, then the product will never be attractive enough, and your marketing dollars will be wasted.
Tourism in the schools – retired hospitality veterans or displaced hospitality
St. Maarten's primary and secondary schools do not all currently teach tourism as a subject in school. This is quite surprising to think about when we know that almost 90% of our GDP is derived from tourism dollars. Not having a population educated in even the most fundamental aspects of tourism industry may lead to the population not having enough of an appreciation of the industry to give the right service, but also learn the ways in which the tourism industry can work for them, bettering their own lives.
Technology Free Zone
St. Maarten is in urgent need of diversifying its economy. The island must attract new investors, but as we know, new investment comes at the price of having to offer something in return. We have to find a way to attract businesses that will employ local labor at good wages, that can get up and running relatively quickly, and that government can benefit in multiple ways rather than just taxation.
Brison will also be releasing his ideas for Mullet Bay to which he will devote quite some time and a Hospitality Certification for the service industry to create a standard for tourism service to ensure "we are all on the same page on how to treat both our locals and guests in the service sector."