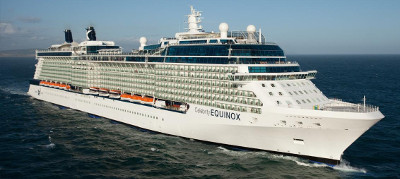 PORT ST. MAARTEN:--- Celebrity Cruises will be returning to the island on February 6, 2018 with Celebrity Equinox. Port St. Maarten Management is looking forward to the return of Celebrity Cruises to the destination as Royal Caribbean International deploys its full fleet for 2018. Celebrity will bring more than 119,000 passengers to shores of St. Maarten in 2018.
Celebrity Eclipse will call on February 7 followed by Celebrity Silhouette on February 15. These three vessels are part of Celebrity's Solstice Class which are the first in the industry to utilize solar technology. This class of ship holds anywhere from 2,800 to 3,000 guests. Celebrity Cruises' 12 ships offer modern luxury vacations of which five will visit St. marten throughout 2018.
A Port St. Maarten delegation from the Cruise Business Unit has been relentlessly meeting with various cruise line partners over the past five months to provide an update on the progress of current recovery efforts in destination St. Maarten, and this has resulted in the return of the majority of cruise line stakeholders.
The destination is open and has been providing that unique cruise passenger destination experience since early December. Reports from the cruise lines indicate that cruise passengers are pleased with the destination and their holiday experience on the island.
"The Island has shown the cruise lines how committed we are in assuring great and memorable experiences to passengers as we recover from hurricane Irma damages. The cruise lines expect all of us to step up to the plate and offer the true St. Maarten experience, which we have been doing, and must continue throughout the year.
"Port St. Maarten will continue communicating with all key stakeholders throughout this process to share the feedback with cruise executives. As a destination, we have a great relationship with the cruise industry and will listen to their feedback to assure we maintain our status as a marquee port of call.
"As cruise passengers 'Rediscover' St. Maarten, we commend the community and private sector for their efforts thus far, and we must continue the drive to keep pushing," Port St. Maarten representatives stated on Monday.
Celebrity is one of five cruise brands operated by global cruise vacation company Royal Caribbean Cruises Ltd. (NYSE: RCL). For more information, dial 1-800-437-3111, visit www.celebritycruises.com, or call your travel agent.