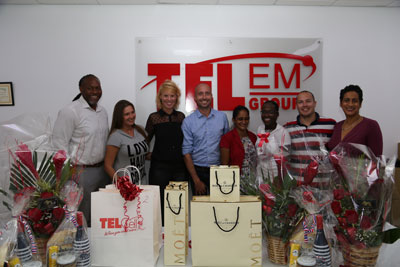 Pond Island:--- Prizes galore were presented Wednesday to five lucky winners of TelCell's Valentine's Day SMS promotion – "Weekend of Love".
The five winners announced in a hail of fanfare, by TelCell Marketing Officer, Cheryl Rismay Wednesday, were: Nijerie Marlin, Irina Stirieonova, Djoeke van der Werf, Nefeza Goolmohamed and Tessa Burrow.
Top prize winner was Nijerie Marlin, who took home a romantic dinner for two, a couple's sunset champagne horseback ride, a couples three-hour professional development session and a weekend stay at Villa Valentino, Anguilla.
Other prize winners were also thrilled with their assortment of Valentine's Day goodies, that also included, Moet & Chandon rose champagne, His/Her watches, Dinners for two, couple's photo shoots, wine, and cheese gift baskets, couple's breakfast vouchers and rose floral bouquets.
Some of the promotion sponsors were on hand Wednesday to present their own gifts to the lucky winners themselves, including representatives of Little Bamboo, Mr. Alex Prevot; Amsterdam Cheese and Liquor Store, Mr. Etienne Roger and photographer, Mr. Edgardo Lynch, of E2 Photography. Other sponsors, AMA Jewellers, TPI, and Caribbean Liquors and Tobacco were not present at Wednesday's announcement, however, were also thanked for their participation by Ms. Rismay.
"We want to thank all of our sponsors without whom we would not be able to make such a splash on such a wonderful day, but we also want to thank everyone who took part and also the winners of our "Weekend of Love" promotion," continued the Marketing Officer.
She said once again TelCell customers were very excited about winning a prize for their Valentine's Day celebration, February 14, not only for themselves but also for their loved ones, making the promotion that more special for everyone.
"Right up until the final deadline for Texting LOVE to 7777 customers were still texting and having fun," said Ms. Rismay.
TelCell says its tally for prizes alone for the Weekend of Love promotion amounted to more than $5,500 this year.