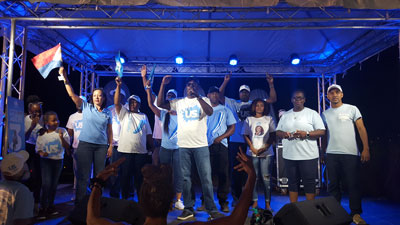 PHILIPSBURG:--- The United St. Maarten (US) party hosted its largest public meeting to date on Saturday, February 17 in Philipsburg and its candidates had one unified message: They were well prepared by their leader Frans Richardson to overcome any obstacle and focus solely on St. Maarten. They added: "We will stand with our leader as he fights his battles."
The rally was the first public event held by the party since party leader MP Frans Richardson was arrested last week. Despite this, or perhaps because of this, the candidates who spoke made presentations with what the party called "passion and determination."
In cohesion, they said that Richardson built the US party on a solid foundation of St. Maarten and its people first and he constructs the party list accordingly. "This wasn't something he just thought up and did just so. He built this party with vision and he knew what type of candidates he wanted," past-president of the party Cecil Nicholas said.
"Unfortunately there have been some that let us down, but that didn't change his premise when it comes to candidates who are serious about making a contribution and who can lead in any situation. So we will push on and when he is back, we will push on together and stand with our leader while he fights his battles," Nicholas added.
Nicholas, who also anchors the party as candidate #19, said the party schedule will continue this week with several events all over the island including a town hall session in Belvedere on Tuesday, the next public meeting at the former USp headquarters property close by St. Johns estate and the final public on Saturday.
"This entire campaign we have been about issues. Look at it closely. All of our candidates have spent their time talking to the people about our party plans for the rebuilding of St. Maarten. The message won't change in this final week of campaigning. We will still go to the people directly and look forward to having our leader back with us soon," Nicholas concluded.