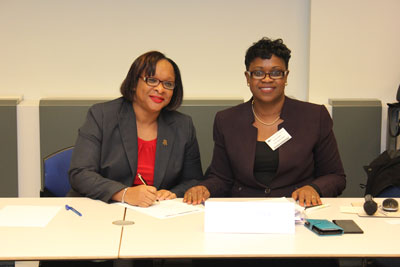 BRUSSELS:--- Sint Maarten has been the Regional Authorizing Officer (RAO) since 2015 for the Caribbean Overseas Countries and Territories. As Prime Minister, the Honorable Leona Romeo-Marlin chaired a meeting for this Programme in which next to Sint Maarten 11 other Caribbean islands participate. The name of the program reveals its focus: "Caribbean OCT's Sustainable Energy, Coastal Management, and Resilience". The objective of this last of in total four regional preparation meetings was to finalize the programming phase by committing on a ministerial level to the priorities and budget allocations. The main topic discussed on a technical level was the so-called "Caribbean Catastrophe Risk Insurance Facility", or CCRIF. Countries insured via CCRIFF received financial support to respond to the damage and the needs of people within days after last season's hurricanes Irma and Maria. The proven success of this insurance system and the expectations that the future will bring more major hurricanes to Caribbean shores resulted in including this facility in the regional programme. Participants in the meeting were also introduced to Expertise France, the agency that will facilitate the implementation of the programme.
During the Ministerial meeting, a presentation was made on the 11th EDF Caribbean Regional Programme by Civil Servant from the department of the interior and kingdom relations Ms. Olivia Lake. During this presentation, ministers were informed on what to expect from the program: Support will be given to the islands including Sint Maarten to start or further transition from fossil fuels to sustainable energy sources like solar and wind energy. Management of coastal zones will help build resilience to future storms and possible tsunamis while offering a valuable breeding ground for sea life. This is in direct support of the fishing and recreational industries while also preserving precious marine biodiversity.
The presentation was followed by a signing ceremony with some of the leaders of the Caribbean Islands. The remaining participating islands are expected to sign the programming document in the coming days.