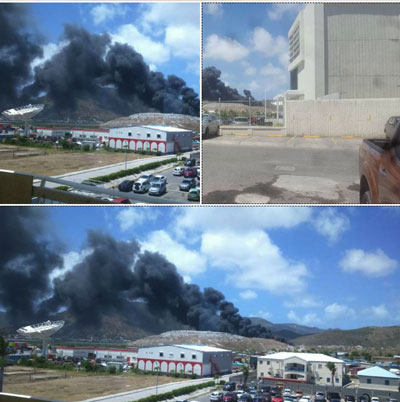 PHILIPSBURG:---Carnival lovers and those operating at Festival Village and residents of St. Maarten have to cope with yet another dump fire. Information reaching SMN News states that workers at the landfill were busy burning government documents in the incinerator when paper apparently blew over to where the old tires are piled up causing the blaze. Residents over the hill in Cole Bay are also suffering from the smoke effects.
Landfill Fire: Persons with respiratory challenges advised to close windows and doors.
GREAT BAY(DCOMM):--- Part of the landfill on Pond Island is on fire. Black smoke caused by tires on fire is moving downwind.
The Fire Department, is advising persons living downwind from the landfill fire, to close windows and doors, especially persons who have a respiratory challenge such as asthma or shortness of breath.
The Fire Department is working on containing the fire at the landfill on Pond Island. The company responsible for the management of the landfill is also working diligently to extinguish the fire.