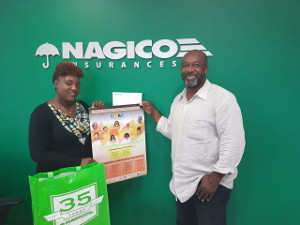 PHILIPSBURG:---NAGICO Insurances made a large contribution yesterday to the Conscious Lyrics Foundation towards their upcoming Annual Book Fair; which will be held on June 1st.
NAGICO, who has been a repeat sponsor, said it is pleased to be a part of the 16th edition of The Book Fair. "We have been partnering with the Conscious Lyrics Foundation for several years now and are extremely pleased to be affiliated with such an event. Through this Book Fair the community is provided the with access to books which are culturally and mentally relevant and provides a platform to showcase the work of local writers."
Marketing Manager; Lisa Brown presented a check to Shujah Reiph; Coordinator of the Book Fair who thanked NAGICO immensely for supporting the event without fail each year.
"NAGICO has been one of the sponsors who came on board with us from a few years now and we want to thank them for seeing the importance of promoting literature in St. Maarten/ St. Martin" he said.
This year's event which usually brings together local, regional and international authors; will be held at the Motorworld showroom with guest authors such as: Earl Lovelace (Trinidad & Tobago), Ruel Johnson from Guyana, Julien Merion (Guadeloupe), Edwidge Danticat (Haiti/ USA), Valerie Graves (USA), Lililita Johnson-Forbes (St. Martin), Nerissa Golden (Montserrat) and Fabien Badejo (St. Martin).