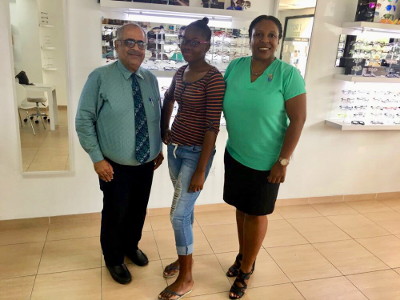 PHILIPSBURG:--- Annually, the Rotary Club of St. Martin Sunrise donates eye glasses to a number of students from various elementary and secondary schools. Part of the funds to purchase the eyeglasses was made available through the Bert Miller Funds, a fund created in the name of the late Dr. Bert Miller from Nova Scotia.
Dr. Miller, an eye doctor by profession, who was a regular visitor of St. Maarten as a timeshare owner at Belair Beach Hotel. Sadly, Dr. Miller passed away during his last visit on St. Maarten in March of 2008. At his memorial held on the island, his family, Belair Beach Hotel timeshare owners, and guests donated funds towards eye glasses for children in need, as they knew Dr. Miller would have wanted. Annually Dr. Miller wife, Carol Miller donates funds to the club ensuring that the Bert Miller Glasses Fund Program continues. The club holds Fundraising events throughout the year to acquire the additional funds required in order to sustain the program.
Rotary Club of St. Martin Sunrise is very much honored to have been chosen to identify these children in need and to, therefore make the funds available to purchase the required eye glasses. The club donated more than eighteen eyeglasses over the years.