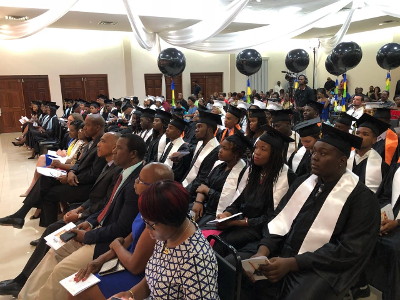 PHILIPSBURG:--- The Minister of Education, Culture, Youth and Sports, Honorable Wycliffe Smith, congratulated the 2018 Graduating Class of the National Institute of Professional Advancement (NIPA) on Thursday evening at the Belair Community Centre. This was the third commencement ceremony for the institute, and the first batch of graduating Registered Nurses (RNs).
The class of 98 graduates were presented with certificates and diplomas for varying levels of achievement and years of study in the areas of Social Pedagogic Work (SPW), Information & Computer Technology (ICT), Culinary, Hospitality, Automotive, and Nursing.
Following the welcoming remarks of the interim director, Garfield Sargeant, Minister Smith addressed the audience by dubbing the graduates "the 2018 Class of Overcomers". He noted that many of them would have faced obstacles and challenges in school, at work, and in their personal family lives, but they freed themselves by taking their education to a higher level.
Making special note of the batch of registered nurses, Minister Smith said, "The Ministry is proud to mark this momentous occasion where Country Sint Maarten is able to locally produce fully qualified nurses to staff our clinics and medical centres." He commended the graduates and the institute on their resilience and progress. "NIPA has been through its own growing pains, changes and challenges over the years, and you graduands, have stuck it out and made it through," said Minister Smith.
The minister applauded the staff and students for pushing forward after hurricanes Irma and Maria, commending the institute for its service to the community in the aftermath. In his words, "As your school's building was a fortress in the storm, and able to serve as shelter for many who were displaced, so now, you (graduates) have been equipped to serve your country as we rebuild. In our diverse economy, we need workers in every sector ... You are strategically ready for 'Building a Sustainable Sint Maarten.' "
As Minister Smith encouraged all to access the Governing Program online via the Government's website, he asserted that NIPA's programs and graduates were essential for this recovery phase of the island. "As you read through the Governing Program, you will see where every graduate here tonight is needed for our economy to rebuild," he said.
"There is no limit to your success. This key of education will open many more doors of Opportunity and Freedom. Use your talents to serve your community and your country. As we build back Sint Maarten better and stronger together, your impact will last way beyond this generation," said Minister Smith.
After the distribution of diplomas, Nurse Brunilda Illidge of the Sint Maarten Medical Centre pinned the ten Registered Nurses as well as seven Licensed Practical Nurses (LPNs). Minister Smith and Mr. Sargeant conferred special awards to several graduates.
Eight graduates were recognized as valedictorians for their respective levels. These students are Joy Davis (SPW2), Simonne Clarke (SPW3), Kimaly Taylor (ICT), Manuela Brooks (Culinary), Censia Isaac (Hospitality), Ignacio Brooks (Automotive), Geraldine Gaspard (LPN), and Joycelyn Joseph-Mason (RN).