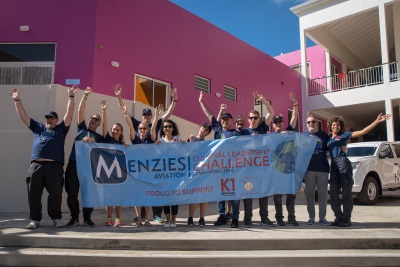 PHILIPSBURG:--- For the past week, a team of 11 delegates from Menzies Aviatihasave been on St. Maarten completing their cultural leadership challenge. The challenge was designed to connect high-performing managers from across the network to participate in a series of challenges while working with a community team or charity. The executives hail from the United States, United Kingdom, Sweden, Scotland, Africa and Australia.
For this challenge, they chose to work alongside the K1 Britannia Foundation and Little League Player Development afterschool program. However, the challenge began before they arrived, as the selected participants were tasked with finding creative ways to raise funds for K1 and Player Development; while some executives chose to run 5 kilometers while singing, others dressed up as clowns and performed for passengers at one of their stations. Fundraising continued throughout their stay as they posted daily blogs about their experiences and encouraged their peers to contribute to the cause. "I was very touched by the humility, openness, and enthusiasm to help that was exemplified by the Menzies executives and I know that it's something that has touched our hearts and will encourage us for a very long time to come" stated K1 co-founder Priya Thirumur.
On day one, they visited K1 to learn about their different projects, specifically their second chance program which aims to provide skills, training, job and life opportunities and mentorship for vulnerable youth. They then continued on to the Little League Ball Park, where they met the children attending Player Development afterschool program, taught them about their countries of origin, and played some baseball. "The children loved the folks from Menzies. They really liked hearing about different places in the world like South Africa and Australia." Said Coach Tom Burnett from Player Development.
Gregory Skinner, a general manager of Menzies from Australia comments after the day were, "To hear the passion from the people that work here, and the lengths that they go to with the youth is truly inspirational."
On day two, they accompanied K1 to the National Institute for Professional Advancement (NIPA), where they were paired with students who taught them masonry, electrical work, carpentry, and more. They continued their day by visiting Player Development once more to read, write stories and play games. "The children were really excited to learn about airplanes and build model planes with the help of "the plane people" explained Coach Tom Burnett from Player Development.
The following day, they reversed the roles and hosted a workshop with as theme "Personal Impact" for the students of NIPA and other invited youth.
They repeated the workshop, which covered resume writing, job interview skills, and maintaining a job after being hired, on Monday, this time for the general public as well. The workshop was followed by a graduation for the participants and the world premiere of their short film "The spirit of St. Maarten: Paradise after the Storm," which they produced themselves as a part of their challenge. "What you will find in this movie is something from the bottom of our hearts and what we've really been able to reflect on during this week. And like I said, it's really the commitment and the team work, and the consistency that you present every day on this great island," Jesper Fredmark, a general manager from Sweden, said about the film he helped to produce. Among those present for the launch of the short film were invited guests from the Court of Guardianship, UNICEF, The Foundation Judicial Institutes St. Maarten (SJIS), SXM Airport, Menzies Aviation and DELTA.
Beside the organizing of the workshops, their innovation hackathon, and filming and editing throughout, the team was also tasked with communal cooking and taking turns hosting wellness sessions for their delegation. They did take time over the weekend to enjoy the island, having gone hiking and enjoyed "The Flying Dutchman" at Rainforest Adventures as well.
The impact of their visit was palpable as is seen in their daily vlogs and short film, one participant even calling the visit an "emotional rollercoaster." One of the aims of the Menzies Leadership challenge is to enhance participants' ability to work across cultures, something that the team took seriously and to heart even saying "Although we're only here for a week, I think K1 Britannia will be something that I personally will try to be involved in for many, many years."
"This past week was inspirational, humbling and encouraging and we are appreciative for all the hard work put in by the Menzies executives for their fundraising efforts back home and the time and effort they put in to connect with local youth and share their experiences and knowledge" concluded Chiaira Bowers, project manager of K1 Britannia Foundation.
The daily vlog of their stay can be seen via https://culturalleadershipchallenge.home.blog.
To find out more information about K1 Britannia Foundation visit their website www.k1britanniafoundation.org and Player Development on Facebook at "Player Development SXM".