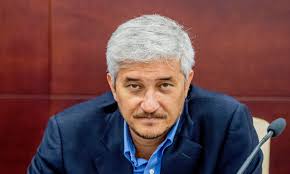 PHILIPSBURG:--- The Court of First Instance rendered its verdict this morning giving the prosecution the green light to prosecute Leader of the United Democrats Theodore Heyliger.
The spokesman for the TBO Roderick Gouverneur confirmed that the Court of First Instance rendered its decision on Monday morning in favor of the Prosecution.
The Prosecution sought the court's permission on Thursday afternoon to prosecute Heyliger in the LARIMAR corruption case which is in full swing. Already the court ruled that Heyliger could be prosecuted in the Catfish investigation where he allegedly offered bribes to former Member of Parliament Romaine LaVille.
The LARIMAR investigation is a case involving politicians, businessmen, and civil servants. The case surrounds the allegation where businessmen including the Director of Windward Roads and Ronald Masdaam offered bribes to politicians and top civil servants.