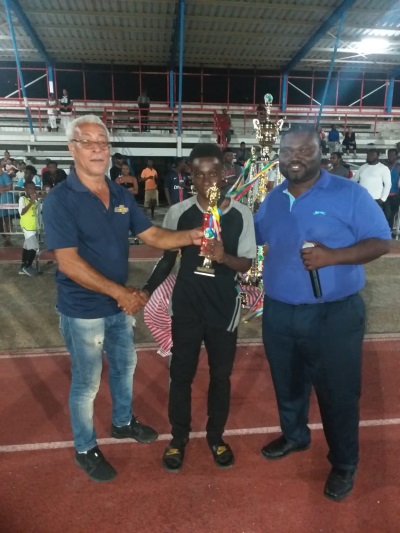 Oualichi Soccer Association goes home with three trophies
PHILIPSBURG:--- the Oualichi Soccer Association participated for the first time with a men's team in the Sint Maarten Football Federation men's senior league (2018/2019 season) and ended up winning three trophies, last week Saturday. The Oualichi men won 'The most disciplined team' and the 'Most improved team'. In addition, an individual trophy went to Mr. James Mathieu as the 'Best young player' of the 2018/2019 league.
President Dagmar Daal: "as a first-time participant in the senior men's league, we can look back with pride for what we managed to achieve so far. Our players showed dedication, commitment and what it means to have an absolute love for the game. Coach Nigel Richards did a tremendous job as well as coaching this men's team. We look forward to the new season and we will continue investing in the development of football in Sint Maarten. A special thanks goes out to all the fans and sponsors who supported us during this season."
For more information, please visit the Facebook page: Oualichi Soccer Association and the Instagram page: oualichisoccer.