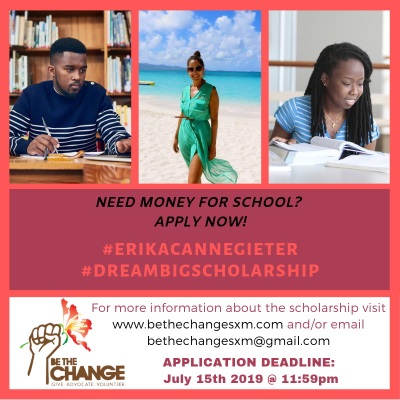 PHILIPSBURG:--- Be The Change Foundation would like to remind all those who wish to apply for the Erika Cannegieter Dream Big Scholarship awards that they must do so by July 15th.
Every year, in remembrance of our late founder Erika Cannegieter, Be The Change Foundation offers scholarship awards to eligible residents of
St. Maarten /Martin. The amount of the grants and number of awards are set by the Board of Directors based on the annual budget.

Students can apply by visiting our website https://www.bethechangesxm.com/scholarship-application/ and filling out the online application. If you need further information, please email us at bethechangesxm @gmail.com
The deadline of July 15th is right around the corner, so please act on this now if you need some financial help for school.