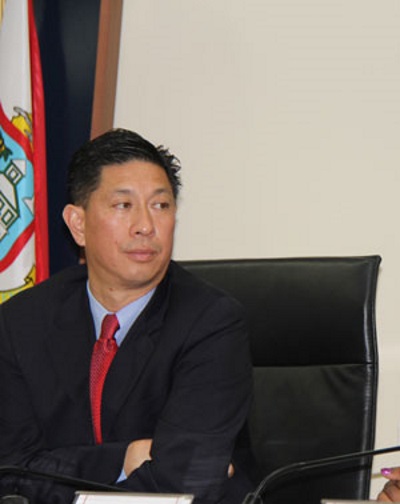 ~ Threatened not to issue work permits to local contractors for foreign labor as he pushed Atlas Construction to replace MES. ~
PHILIPSBURG:--- Ousted Minister of Health and Labor Emil Lee who was recently fired by Parliament lied to Members of Parliament during the budget debate when he made an emotional statement saying that since he became a Minister his company Atlas Construction that is managed by his wife has lost income and has even suffered financially. Lee said that he has never used his power in the Council of Ministers or his Ministry to benefit himself or his company.
SMN News published an article earlier this year about the prison wall project that was awarded to Atlas Construction through ICE. However most recently another case of victimization by the Minister surfaced, this one involves the construction of the former Sonesta Great Bay Resort by Sunwing Group of Companies (Blue Diamond).
According to information provided to SMN News, the developers Sunwing Developers chose to recruit a company from Trinidad and Tobago whom they worked with in that country for the electrical work for the St. Maarten project. GTC from Trinidad and Tobago then consulted their sister company in the Dominican Republic who then enlisted a local company Maestro Electrical Company (MES)" to participate in the bidding process on St. Maarten.
SMN News further learned that MES won the bid along with Windward Roads the main contractor for the construction of the hotel. The source said that MES signed their contract with Windward Roads and was waiting for the company to return the contract with their signature and that of the developer attached but Windward Roads never returned the signed contract. After weeks of waiting the contractor for MES checked with Windward Roads who informed MES that they were busy negotiating with another local company named Atlas Construction.
SMN News further learned upon investigation that Emil Lee in the capacity of Minister coerced caretaker Minister of VROMI Miklos Giterson to give him the list of all the names of contractors and companies that would be working on Sunwing Resort and Giterson complied. The investigation showed that Lee then contacted the developer and informed them that MES was not competent to do the job and that they do not have the workforce on St. Maarten and that he as Minister of Labor will not be granting the company work permits for foreign labor. The investigation shows that Lee then recommended his own company since he already has a host of Venezuelans working for Atlas that can work on the project even though he would be required to extend and modify their working permits.
The developer as a subsidiary of the Sunwing Group, Blue Diamond has division has been working tirelessly to get their project started and while they have been committed to hiring as much local labor as possible, as with any project they do need some foreign labor. However, it appears that they have been misled to believe that the only way they can get work permits for their subcontractors is by ensuring Atlas Construction is part of the project. For this reason, MES was told that their project is on hold, as they reportedly received an indication that the locally established MES N.V would not be able to receive work permits at all.
SMN News understands that Atlas Construction already had a contract with Windward Roads to work on the traffic changes where the developer will be constructing a roundabout in the vicinity of the Resort, however, it is clear that Atlas Construction became greedy and chose to sideline local contractors.
Head of Labor Department bullied.
SMN News further learned that the Head of the Labor Department when instructed not to process work permits for MES NV already indicated to the Minister that she will not be bullied.
According to the investigation conducted by SMN News MES NV did not even submit their request for labor permits when the instructions were given by Lee and when they were undermined.
MES NV it is understood would need about 72 working permits for their workers that would be coming from the company in Trinidad and Tobago and from the Dominican Republic while the other workers will be hired locally.
Lee is determined to stay in office for his own self-enrichment schemes.
SMN News have learned that Emil Lee called a meeting with his staff just recently and informed them that he has too much to lose if he should leave office thus he has hired a constitutional lawyer that are busy dissecting the motion of no confidence presented by MP Luc Mercelina to see if he could find loopholes in that motion.
The source said while the motion of no confidence clearly states that the Minister must resign immediately, they felt the Governor of St. Maarten should respect the majority MPs in Parliament who fired Emil Lee and have him vacate his office before he causes more damage to the already fragile country.