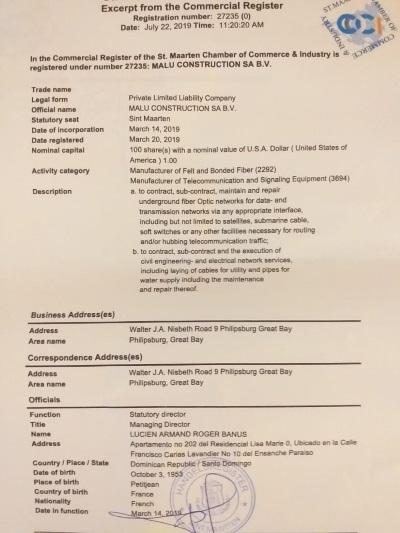 ~Intense internal investigation should uncover major corruption scam, that may also link to BTP. ~
PHILIPSBURG: --- A Supervisory Board member of TELEM Group of Companies has been suspended due to the fact that the other members of the board discovered that he is affiliated with a company that is conducting business with TELEM through the fibre to the home project.
The board member has a company he is affiliated with registered at his home address. The company registered at the Chamber of Commerce is "MALU" which clearly has the board member home address. The company is also registered in the Dominican Republic.
The said board member Arnel Brown a former manager for TELEM also has a second company that TELEM works with as a vendor in the same fiber to the home project.
Sources say Brown and a French citizen are business partners, and the French national is fronting the business for the board member.
It is alleged that members of the management team are also implicated with the board member and his alleged shady businesses.
TELEM Supervisory board is also investigating the SMITCOMS Domincana project that has been going on for over 10 years but has not advanced, even though TELEM is spending large amounts of money on a monthly basis on the SMITCOMS Dominicana. It is alleged that a senior a member of management (Chief Technical Officer) Eldert Louisa along with Brown and his business partner have been working with the SMITCOM Domincana that is basically ripping off TELEM millions of dollars.
SMN News learned that the Supervisory Boards were given numerous deadlines as to when the overseas-based company will become active but to date none of the dates have materialized. So far, TELEM spent about millions on this company that the CTO has been overseeing.
Sources say that some $4M was taken out of TELEM accounts and paid for the 721 country code which is also part of the BTP investigation.
SMN News learned that all of these are linked one way or another to the BTP investigation is widening.