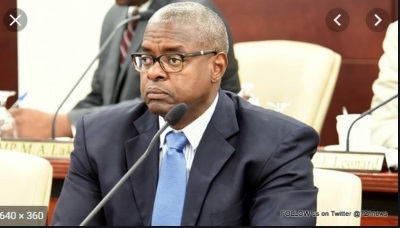 PHILIPSBURG:--- Member of Parliament Franklin Meyers who already indicated that his political career is nearing its end pulled his support from the United Democrats and St. Maarten Christian Party collation (UD/SMCP).
On Monday morning MP Meyers announced his decision during the meeting held on the closing of the parliamentary year 2018-2019 that he cannot continue to support the current UD/SMCP Government. MP Meyers said he thought long and hard prior to making his decision.
MP Meyers said that while he thanked the SMCP for their commitment and loyal support of the government he felt that the SMCP was more loyal to the collation that their own members from the United Democrats.
" As a man, father and St. Maartener I cannot continue to be a part of a government where the outside manipulation is stunting the forward motion of St. Maarten and its people. I cannot be part of a government to do that, I have a though long and hard about this and I want to tell my colleagues in Parliament and my people I cannot do this anymore. It is one thing to say its in the best interest of St. Maarten with your mouth while all of the other actions have shown nothing but selfishness. That selfishness, I have been for too long quiet and been a team player and have kept things that were discussed in the realms of the party because I felt for the greater good of the collation that is how it should stay. I find myself in a position defending things that I know to my heart that I don't want to defend and when I find myself in a position like that I don't like to be in that position. As such moving forward the road is going to be even rougher for St. Maarten and its people but I would like to hereby would like to make an official announcement today that I am officially withdrawing my support from the present government."
Meyers said that the UD/SMCP Government was formed in 2018 shortly after the snap elections that St. Maarten did not need to assist the people of St. Maarten that were in dire needs of funds after the passage of hurricane IRMA and MARIA. Meyers further explained that two years after the passing of IRMA and Maria the country managed to come back due to the resilience and strength and not the much-needed funds that were promised to the country. Meyers said that he found himself supporting things he was not in agreement with over the past months.
He further stated that those people that needed the funds did not get it but money was set aside for other projects such as PJIAE the gateway of the country.
Meyers made clear that he cannot continue to support a government that is managed or influenced by outside forces that are not in the interest of the country and people.
MP Peterson who was certainly not happy with the demise of his collation government said there were MPs within the collation that sabotaged their government.
MP Roland Brison also indicated that enough was more than enough and that something has to be done that would be the interest of St. Maarten and its people. He said that over the years Emil Lee was allowed to take the country down while being the Minister of VSA. He said as soon as Lee was sent home and the amendment to the civil code reached parliament and was passed. Brison said that St. Maarten does deserve better.
He also lashed out on those at PJIAE that are holding back the reconstruction progress at the airport which will eventually hold the country down. Brison also spoke out against the holding back of the US preclearance that was installed at PJIAE.