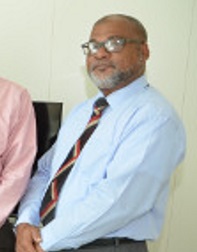 ~ BTP corruption probe continues to widen.~

PHILIPSBURG:--- TBO and RST detectives arrested the Director of Bureau Telecommunications and Posts (BTP) Antony Carty on Monday. Carty is also the business partner of MP Frans Richardson who is currently in pretrial detention as investigators continue with the BTP probe. TBO Spokesman Roderick Gouverneur confirmed Carty's arrest. On Wednesday morning Gouverneur said Carty was released on Tuesday but he was not informed of the release.
The TBO and RST began an indebt investigation into BTP several months ago. Houses and offices were searched as the investigations deepen. Last week SMN News conducted its own investigation and learned that MP Richardson is a suspect in the BTP investigation that involves Attorney at Law Peggy Ann Brandon, Carl Critchlow of Taliesin Construction Judith de Weever, Attorney at Law Roland Duncan whose law firm was also searched, the Director of BTP Antony Carty, Former Minister of TEATT Romeo Pantophlet who was also questioned and the financial auditor of BTP Judianne Hoeve whom it is alleged cooperated with the investigators.
On Thursday MP Richardson is due to appear before the judge of instruction where it will be decided if the MP will remain in pretrial detention (Voorlopig Hechtenis). Should that happen then MP Richardson will be the second Member of Parliament to be suspended from duties due to ongoing criminal investigations.
Should MP Richardson remain in Voorlopig Hechtenis then USP candidate Maria Buncamper Molanus will be the next in line to take up the vacant seat in Parliament in the USP faction. Buncamper Molanus secured 240 votes in the 2018 snap elections.
Currently, St. Maarten government has lost its majority and while there is a 15 -seat parliament, the opposition now has 6 seat MPs available to them while the governing coalition as 7 supporting MPs while MP Franklin Meyers did not indicate whether he will become an independent Member of Parliament, thus leaving government in a stalemate status.