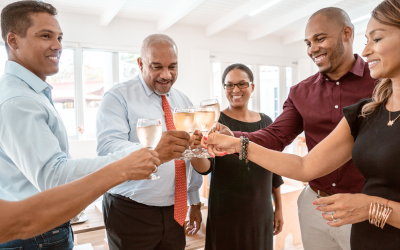 WILLEMSTAD:--- The Montessori School Foundation, which recently opened the first authentic Montessori school in Curaçao, has taken out a collective pension for its staff with pension insurer ENNIA.
The start of The Montessori School in Damacor is the first phase of a larger project. The Montessori Village project is a multi-year plan, whereby Montessori education is offered from birth through 18 years of age. In addition, there will be a residential complex for the elderly, where especially those with dementia can enjoy innovative daily programs based on the Montessori method. Spaces for small businesses, as well as a research and innovation center, will also be developed.
"During the past two years, we have focused almost exclusively on the planning and implementation of the Montessori Village. This project is our ultimate goal, and we have subsequently divided this goal into small, manageable intermediate goals. We were looking for an insurance partner who is willing to help us achieve this ultimate goal," said Danielle Palm, president of The Montessori School Foundation and head of the school.
The Montessori School Foundation has obtained a complete package of insurance policies from ENNIA for healthcare, damage, liability, as well as a collective pension plan. "The insurance package offers coverage flexibility, which prevents underinsurance or overinsurance, and is crucial for our continued growth and wide range of activities. We think it's important that the parents, students, partners and staff can feel secure knowing everything is covered."
"The collaboration with ENNIA went quickly and smoothly. Insurance specialist Shairlon Balentina did a risk assessment with us, and then an insurance package was created which works well with our preferences, our continued growth, as well as our Montessori philosophy. For the pension plan, Account Manager Tini Lasten explained everything thoroughly, including all the calculations," says Palm.
Montessori: Freedom within limits
The Montessori School offers a safe and stimulating learning environment that meets the natural needs of young child between 18 months and 6 years of age. Montessori education is a carefully constructed teaching method whereby a child can develop much more at his own pace, using his own abilities, under the guidance of an experienced Montessori teacher and with the help of specially designed Montessori materials.
Montessori education is based on a flexible balance between freedom and a system of fixed rules, summarized as "freedom within limits". For more information, visit the montessori.cw website.