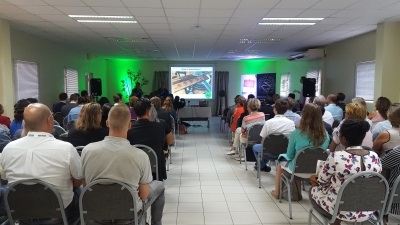 PHILIPSBURG:--- The Sint Maarten Innovations, Initiatives and Industries Link-up Event 2019 (SMILE) will be the host of the award ceremony for the Caribbean Innovation Contest. By means of this contest, NGO MicroMentor will provide 15 prizes up to $5,000 to support the recovering business community of Sint Maarten.
SMILE organizers are excited to welcome the contest award winners and the boost provided to Sint Maarten's entrepreneurs as the economy is still recovering from the 2017 hurricane season and promoting new ideas is exactly what the SMILE event is all about.
The SMILE tradeshow is designed to revolve around the themes of innovation and sustainability. The organizers see the Caribbean Innovation Challenge by Micromentor as a great incentive to "think out of the box" on the road to SMILE.
Registration for the contest is easy and can be done at www.micromentor.org/blog/cic2019.
All 15 winners will receive a free entry pass to SMILE which includes all 25 masterclasses scheduled for the event.
MicroMentor is a free, easy-to-use social network that allows entrepreneurs and volunteer business mentors to connect so they can solve problems and build businesses together. For more information on MicroMentor visit www.micromentor.org/caribbean
SMILE takes place at University Sint Maarten on October 25th and 26th. Businesses and NGOs interested to participate in SMILE as an exhibitor or attendee can obtain more information at 5420108 or via This email address is being protected from spambots. You need JavaScript enabled to view it.. For the most up to date SMILE information visit www.shta.com/SMILE.