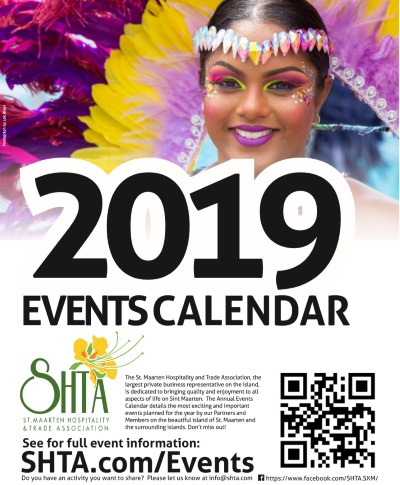 PHILIPSBURG:---The Sint Maarten Hospitality & Trade Association (SHTA) and Carib Beer call on companies and NGO's to send in their planned events for 2020. The Annual St. Maarten Event Calendar will be distributed throughout Sint Maarten and by many international partners in January. It is considered the official event Calendar for St. Maarten by the St. Maarten Tourism Board. This collaborative amalgamation of events helps promote the diversity and dynamism of the island.
The calendar provides businesses and NGOs a platform to showcase their activities and events and has a vital function to display that the island is very much alive in the wake of the 2017 hurricane season.
Since its 2019 edition, the calendar is a fold-out feature of VISIT, the SHTA's official in-room magazine with 25,000 copies printed annually. Editions of the Calendar were included as giveaways in farewell bags of Saint Martin / Sint Maarten Annual Regional Tradeshow (SMART), the Heineken Regatta and the Sint Maarten Innovations, Initiatives and Industries Link-up Event (SMILE).
Both digital and physical editions of the calendar have been actively distributed and reprinted by representatives in both the United States and Europe; moreover, they sought after but residents and visitors alike.
Upcoming events are digitally featured by the SHTA social media channels and newsletters and can be downloaded at http://shta.com/events2019/. Since its 2019 edition, the attractive layout designed by local artist Loic Bryan has been picked up by Facebook channels and other influencers.
If you wish to publish your next upcoming event in the Event Calendar, SHTA is offering an early bird special until October 31st, 2019. Please forward your information to This email address is being protected from spambots. You need JavaScript enabled to view it. or call +1721 5420108. Free copies of the physical calendar can be obtained via these contacts as well. More information can be found on www.shta.com/event-calendar.