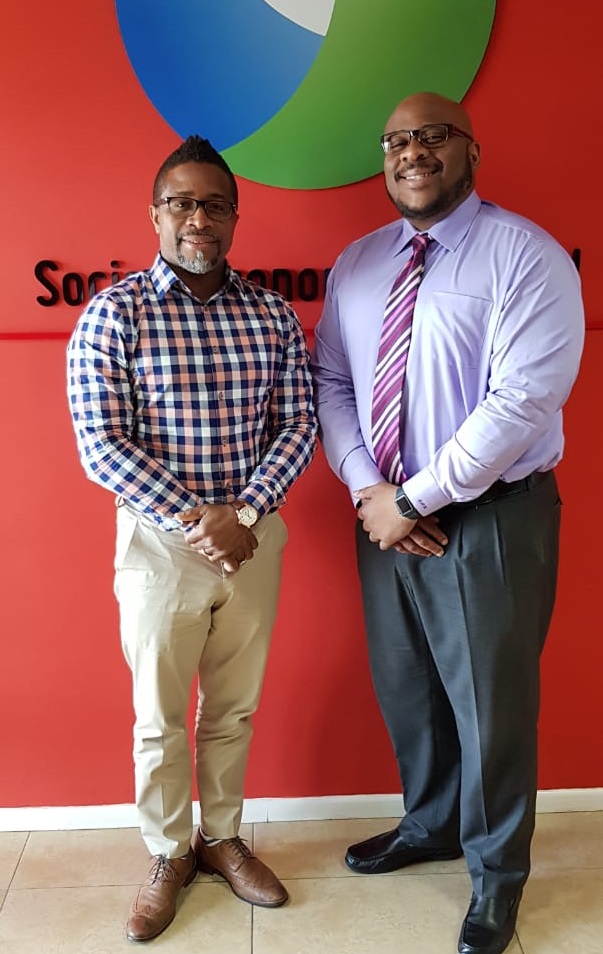 PHILIPSBURG:--- Romain Laville former Member of Parliament (MP) and candidate contesting the 2020 elections met with Mr. Gerard Richardson, the Secretary-General of the Social Economic Council (SER) on Tuesday, November 5th, 2019. The purpose of the meeting was for Laville to receive a presentation on the institution, work method, and role of the SER, in particular where it pertains to previous research conducted by the SER on poverty alleviation.
Mr. Laville who has always stood by the people of Sint Maarten is once again planning to promote a social agenda that places emphasis on the vulnerable groups within our community such as children, single parents, and our seniors. As a Member of Parliament (2010-2014), Laville brought a number of motions in Parliament consisting of law amendments to combat poverty on Sint Maarten. Examples are the Rights of employees to transfer from one organization to the next without losing their accrued benefits, mandatory Employer/Employee pension plan, Free Primary Education, etc. Another important instrument Laville brought in 2014 to alleviate poverty on Sint Maarten was the Health fast breakfast program for our public schools. This was done in collaboration with the airport and Goddard catering.
"While all my motions were passed unanimously in Parliament, Governments have not carried out their responsibility in executing these motions that would have alleviated the needs of our people. It is for this reason that, this time around my team and I have chosen a different approach to combat poverty on Sint Maarten. We have analyzed different reports, policies, and legislation that deal with the matter of poverty and have drafted what we consider a solution to the poverty situation on Sint Maarten. Currently, we are in the process of sharing our proposal with institutions within our community that either conduct research and report on Socio-Economic matters such as the SER, organizations that defend the rights of the vulnerable groups within our community, labour organizations and groups that are living within poverty. This with the goal to gather their critical feedback on our proposal to combat poverty on Sint Maarten", stated Laville.
Mr. Laville thanked the Secretary-General of the SER for his presentation and elaborations given on previous reports on poverty alleviation produced by the SER. While the views expressed by the Secretary-General, were his personal views and opinions and might not represent the opinion of the board of the SER, the former MP was grateful for the fruitful discussion on poverty alleviation for our people.
Laville intends to meet with a few more institutions and groups within the next weeks prior to finalizing and presenting his proposal to the people of Sint Maarten.