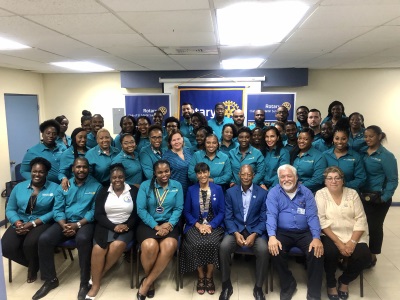 COLE BAY:--- Members of the Rotary Club of St. Martin Sunset welcomed Governor, Delma Maduro and her husband, Past Assistant Governor Audley Maduro, to their general meeting on Monday October 21. Governor Delma Maduro holds one of the highest positions within District 7020, which comprises of the islands St. Barths, St. Maarten / St. Martin, Anguilla, British Virgin Islands, U.S. Virgin Islands, Cayman Islands, Jamaica, Haiti, Turks and Caicos Islands, and the Bahamas.
The purpose of the official club visit was to allow Governor Delma Maduro the opportunity to communicate with Rotarians from each club within the district. It also served as an opportunity for Governor Delma Maduro to gain a better understanding of each club and to provide support and to inform each club of the programs of Rotary as well as to share the vision and the goals of these programs. Governor Delma Maduro was able to see firsthand the accomplishments of the club for the Rotary year.
During the meeting, President Jaida Nisbett gave a brief overview of the club's accomplishments thus far as well as the upcoming projects and events. President Jaida also provided details on the club's goals for membership growth and retention as well as the club's plans to support the district's Diabetes Prevention and Awareness program. The chair persons of the club's committees discussed upcoming projects and events with DG Delma and the club members.
The Rotary Club of St. Martin Sunset would like to send a special thank you to Guavaberry, I Love SXM Bar, and Laser It for the souvenirs donated, which were presented to DG Delma and PAG Audley.
Amongst invited guest were District Governor Nominee, Louis Wever, his wife Rotarian Amanda Wever, Assistant Governor Marcellia Henry, and visiting Rotarian Heidi Hammervik of the Rotary Club of Holmestrand in Norway.
The members of the Rotary Club of St. Martin Sunset would like to extend their heartfelt gratitude to Governor Delma Madura and her husband PAG Audley for visiting the island and the club and for providing her support and encouragement. We look forward to the rest of the Rotary year 2019-2020 under their leadership.