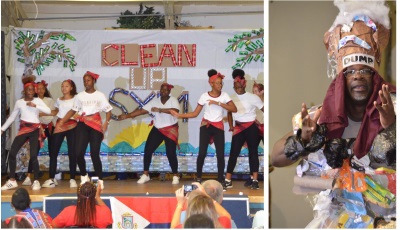 PHILIPSBURG:--- Learning Unlimited Preparatory School (LU) on Friday held its St. Maarten Day Assembly under the theme "Clean Up St. Maarten" and featured as special guests a beach, the Great Salt Pond and the Philipsburg Landfill more popularly known as the dump.

While a majority of the program featured performances LU's students, three of the school's teachers performed shorts skits as a beach, the pond and the dump decrying how they are treated on a regular basis. The dialogue between the beach and the pond focused on how each was being treated. In the beach's case, the amount of garbage left behind after celebrations were highlighted, while the pond complained about being filled in, shrunken in size, and used for disposing of waste.
The dump, performed by Dean of Students at LU Danny Fleming, begged for a solution. "When is this going to stop? I can't take it anymore! I had enough! Everyone is blaming me for making people sick and for making the town look bad but it is not my fault. I would never do this to myself. I feel so ashamed when the tourists stare at me. SXM reduce, reuse, and recycle. Give me a fair chance. Build an incinerator in a faraway open land…..do something How much higher you want me go? My goodness… clouds passing through my head," the dump cried.
Head of LU's Primary School Amissa President explained that the goal of the 2019 St. Maarten day assembly was to send a message to the general public to consider reducing, reusing and recycling. In this context, part of the program was a "Trashion Show" which saw students and modeling trash items they find around their homes. "The message was about keeping St. Maarten clean, not just beautiful," President said.
LU's stage backdrop was made of recycled materials, showcasing St. Maarten. The tree trunks were made up of newspaper intertwined with brown paper from amazon packages, while the leaves were all Sprite, Ting and Heineken cans. The Clean-Up SXM sign was made up of coke, Pepsi, Carib Beer, and Canada Dry cans as well as egg cartons which were used for the word "UP. " The sea was made up of layers of plastic bottles and Pepsi Cans. Lastly, the sun emitted its rays with yellow bottle caps of two different sizes. "This is indeed a true example of "Trash to Treasure," President said.
The rest of the program featured dances by students and other entertainment. Prime Minister Wycliff Smith, Minister Stuart Johnson, Minister Christopher Wever, MP's Rolando Brison, Taara Leonard, and Ardwell Irion were all in attendance.