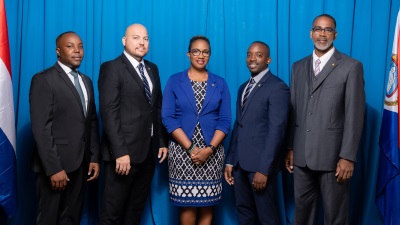 PHILIPSBURG:--- Prime Minister Silveria Jacobs along with Ministers Ardwell, Doran Violenus, and Wever took off with full speed on Tuesday shortly after they were sworn in.
Jacobs told members of the media on Wednesday that the Council of Ministers already held meetings with the management and board of the Princess Juliana International Airport (PJIAE) and that they received two presentations on the current state of affairs of the country's airport.
She said that the airport management has to turn over all documents and agreements that were signed by the former government but her government could sign off on anything else.
Jacobs assured that PJIAE has their uttermost attention and that the Council of Ministers intends to visit the airport again on Friday. Jacobs and the Minister of TEATT Rene Violenus said that as soon as they receive the documentation then they will proceed.
When the agreements are cleared and Jacobs cabinet signs off then the bondholders will begin releasing the money they are holding so that project 2 of the airport could begin. Jacobs said the bondholders are set to release $5M as soon as all the dotted lines are signed, she, however, reminded that parliament had already given the green light when they signed off on the 2019 budget in October. Besides that, she said that the governor also signed off at least 6 LBs on this matter, yet the former government did not execute.