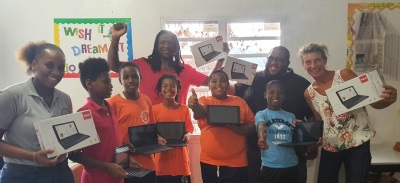 PHILIPSBURG:--- On 21 November 2019, 4C Foundation presented Excellence Learning Academy Special Education Program with a special donation of 25 RCA laptops/tablets. This was the result of an agreement reached between both foundations regarding the donation of the laptop/tablets through the "Simple Touch, Simple Learn" project.
Back in 2014 Foresee Foundation started its DigiKidz project bringing integrated technology in St. Maarten schools Hillside Christian, Seventh Day Adventist, and MAC. Following up on this a media lab was built in the library, ICT conferences for all st. Maarten educators were organized and in 2017 a start was made with the high school version of DigiKidz, called DigiTeenz, at St. Maarten Academy and Milton Peters College. With these projects Foresee Foundation was able to bring this innovative and engaging way of learning into St. Maarten classrooms also thanks to many sponsoring partners and visionary educators.
For this reason, Foresee was impressed when they recently met Excellence Learning Academy who shared the needs in education and decided after hurricane Irma to start a special needs program for children who need this extra support developing their gifts and talents. The possibility of providing children with individual learning opportunities through a personal learning device is exactly what the Excellence Learning academy stands for with its "Simple Touch, Simple Learn" project. It aims to empower its students and show the importance of learning 21st century skills with the use of technology.
With the 25 tablets, each student will be given the opportunity to use their assigned tablets during school hours which would help them acquire technological skills as they pursue their work.
Keving "Suppa" Petrona, on behalf of the Foresee DigiKidz team, explained the importance of giving back to the community investing in the young generation. Jose Sommers and Alston Lourens, President and Vice-President of Foresee Foundation, shared similar being excited to continue their journey in building a strong SXM community by supporting non-profit organizations such as Excellence Learning Academy. They encourage all non-profit and community-based organizations to register at NPOwerSXM.com looking forward to uniting, strengthen and appreciate all the good and unselfish work is done by so many.
The schools' Director Alisha Brookes and staff expressed their gratitude for the tablets received and thanked the 4C foundation as the donating organization. Excellence Learning Academy promised to make sure the laptop/tablets are well utilized and that the students truly benefit from using them.