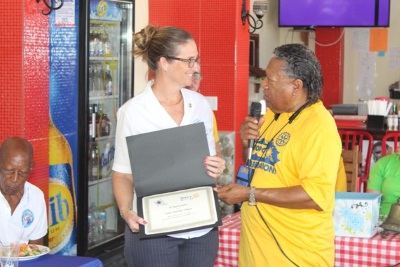 PHILIPSBURG:--- Rotary District 7090 headed by District Governor Bob Artis held their district conference aboard 'Allure of the Seas' with a stop in St. Maarten. District 7090 was joined on the cruise by Rotary International Representative Bob Menconi. On their arrival in St. Maarten they were met by a delegation from Rotary District 7020 headed by District Governor Delma Maduro, and the coordinators for this visit Rotarians Denise Antrobus, from the Rotary Club of St. Maarten-Mid Isle and Lezlie Murch from The Rotary Club of St. Catharine's and Rotaract Club of Niagara, Canada.
Rotary District 7090 is a district of eighty Rotary and Rotaract Clubs distributed throughout Southern Ontario, Canada, and Western New York USA, twelve of their clubs were on the cruise. While Rotary District 7020 is a district with over eighty Rotary Clubs from the Islands of Anguilla, British Virgin Islands, Cayman Islands, Haiti, Jamaica, St. Barth, St Maarten, St Martin, The Bahamas, Turks & Caicos, and the US Virgin Islands.
District 7090 has been very much involved with St. Maarten since Hurricanes Irma and Maria. They are involved in a global grant to get the Exceptional School at Sister Marie Lawrence up and running, they are willing to assist whenever help is required.
The first stop of the day was to the Sister Marie Lawrence School in Middle Region. Here they viewed a powerpoint presentation on the work so far at the school which also included a song with the title 'Thank You Rotary from SML' which brought the visiting Rotarians to tears. They visited the students from Sister Marie Lawrence School who are presently based at St. Dominic's Primary School for some interactive projects of reading, arts etc.
District 7090 enjoyed lunch and fellowship at Big Wood on the Boardwalk with local Rotarians from St. Maarten and Anguilla. Gifts and banners were exchanged with the District Governors and visiting clubs. Tanja Frederiks from the Catholic Board was presented with a Certificate of Appreciation, with thanks for hosting the Rotary District 7090 Conference on Cruise October 23, 2019.
Their afternoon visit was to Coach Tom and Player Development which also boasts an EarlyAct Club. The interactive activities were painting a Train Engine on wood, painting an inspiration quote 'We are stronger, we are smarter, we are kinder' on one of the containers which house Player Development and dressing coffee cans for the children and Earlyactors to collect can tab to help those in Abaco and Grand Bahama after the devastation of Hurricane Dorian.
Before returning to the ship at the end of their visit Rotarian Lezlie Murch recognized Rotarian Denise Antrobus with a Paul Harris Fellow on behalf of District 7090.