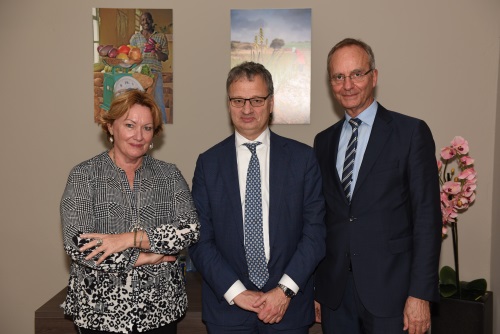 Oranjestad:--- The draft budget of Aruba for the financial year 2020 closes with a budget surplus of 0.6% of GDP. Herewith the standard for the budget surplus as reflected in the protocol agreed with the Netherlands is met. For the first time in years, the nominal debt and staff expenditures - including those of the budget funds - will decrease. It is important that Aruba indicate in a substantiated manner how the reduction in the personnel expenditures can be guaranteed as well for more years to come. Furthermore, on the revenue side, the substantiation of estimated incidental income should also be improved. The Board of financial supervision Aruba (CAft) calls for more attention to the seeking and applying of opportunities to reduce government expenditures - instead of increasing taxes - in order to achieve lasting and sustainable public finances.
2020 Draft budget
For most structural measures in the draft budget no decisions have been made yet pertaining to income - for an amount of AWG 111 million. As a consequence, there is an undeniable risk that the realization of these income increases will be delayed, resulting in a deficit. Incidentally, Aruba places too much emphasis on income increases to realize a budget surplus. In consideration of lasting and sustainable public finances, it is important to reduce spending. Aruba needs to submit the budget to Parliament in the short term, allowing it to now be adopted without further delay.
Expenditures for personnel
In accordance with the 2019 cooperation protocol between Aruba and the Netherlands dated November 22nd, 2018, entitled "Setting the path towards solid, transparent and sustainable public finance of Aruba", Aruba should reduce personnel expenditures annually starting January 2019. For the year 2020, an agreement has been made that the personnel expenditures, including employer's expenses, amount to a maximum of AWG 476 million. This includes the personnel expenditures of the Interim Budget Fund Social Crisis Plan (IBSCP). If this is achieved, the excessive staff costs will decrease for the first time in years. This is a major trend break. The substantiation of the estimate of these expenditures has to improve, making it also clear how this nominal decrease will be continued on the long run.
Tax reform
The tax reform initiated last year is still delayed. The objective is to modify and, where possible, simplify the system of charges and taxes. The CAft emphasizes that urgent decision-making about the tax reform is urgently needed. It is also important that further measures are taken in the short term to ensure that whoever owes tax and premiums, will also pay these.
The CAft visited Aruba on February 13th and 14th. Meetings were held with, amongst others, the Governor, the Minister of Finance, Economic Affairs and Culture, the Minister of Justice, Security and Integration, the Council of Ministers and Parliament. In addition, the CAft met with the management of the Social Insurance Bank (SVb).