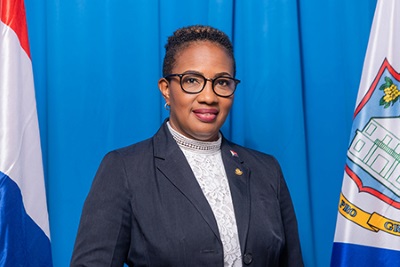 PHILIPSBURG: --- Supermarkets on the south side of the island will open only to conduct delivery to their clients, on the French side and the BES islands. Prime Minister Silveria Jacobs made the announcement on Monday afternoon.
Jacobs made clear that that the supermarkets will not all be opened to the public; clients can make orders for essential items and not luxury items by emails or WhatsApp number that will be later published. She warned that the owners of supermarkets must follow strict guidelines with regard to the restrictions. She said the forms must be filled in while the delivery workers must stay a safe distance away from their clients.
Jacobs also announced that a videoconference meeting was held on Monday between the French and Dutch sides as a follow up on the border control. Jacobs said on Monday morning the Oyster Pond border was not blocked as agreed upon on Sunday, besides that she said persons crossing the borders must have the Disaster Pass issued by the Government of St. Maarten or the waiver issued by the Prefecture of St. Martin. The staff of the St. Maarten Medical Center has its Disaster Pass printed at the back of their professional identification.
The Prime Minister said on Monday Police received over 1000 requests for waivers to cross the border. She said the number is outrageous because these persons do not fall under emergency workers. Jacobs called on the population to respect the lockdown and not request these waivers for anything that is not of utter urgency. Persons desiring to cross the border for medical reasons or to care for the elderly should submit their request to the Minister of Health.