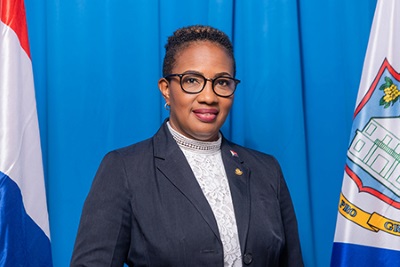 ~ SXM Working on getting assistance from CUBA. ~
PHILIPSBURG: --- Persons within the community that has COVID-19 related symptoms should not hesitate to contact CPS whether or not they have health insurance.
Prime Minister Silveria Jacobs in response to a question posed by SMN News during live Council of Minister's press briefing said that persons that call CPS are not asked about health insurance, she said that that this is a pandemic and government is shouldering the expenses for everyone that is infected.
So far, St. Maarten has 43 confirmed cases the Prime Minister said that number is expected to go up as the CPS team will be moving through the hotspots to conduct testing.
Jacobs said as of yesterday the self-quarantine numbers went down however, the island has to remain on lockdown for those persons that are asymptomatic (persons without symptoms) to remain indoors to mitigate the spread of the virus.
Jacobs said that now, talks are being held with the Minister of Foreign Affairs in order for St. Maarten to seek medical assistance from Cuba, Jacobs said St. Maarten cannot make the request directly since foreign affairs fall under the Netherlands.
She said that St. Maarten already got an infection control doctor who starts working as of Wednesday while an Epidemiologist was sought in Saba. St. Maarten recently hired Eva Lisa de Weever who was forced to return to Canada due to her medical needs, Jacobs said that even though de Weever is not on the island she is working remotely and has been in daily contact with her team at CPS and in Curacao.
The Prime Minister also called on health care workers that are in the community and are not currently working and are willing to assist in this pandemic to contact CPS. She said many health care workers left their careers to work in the private sector but since these businesses are not operating the healthcare workers could assist with the overload faced at CPS and SMMC.
Jacobs said St. Maarten still has food and that several supermarkets begin delivering as persons can now make their purchases online. Another gas station will be opened in the Cole Bay area, to provide gasoline to emergency service. When that gas station is allowed to open then there will be 3 gas stations operating on the Southside.
Residents that have an urgent need for food are asked to fill in the necessary forms online to get assistance from the government, the Prime Minister called on residents not to fill in forms more than once as this is slowing down the process. She said Social Affairs is doing all it can to supply food to those in need and the elderly.