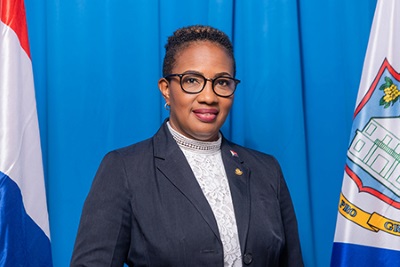 PHILIPSBURG:---Prime Minister Silveria Jacobs announced on Thursday evening that six new cases of COVID-19 are now added to the list. Currently, are 89 positive cases since the testing begins some weeks ago. 189 persons have been tested, 108 were negative, 17 cases are pending, there are 41 actives cases on St. Maarten. Jacobs said that it is expected that the positive cases will go up in the coming days, however, she said that CPS visited Cay Hill on Wednesday and Thursday and met with almost 200 persons but only one person was showing signs and symptoms. The Prime Minister said that the testing will continue on Friday and Saturday in the Cay Bay area. Jacobs said people are still hesitant to take the tests she called on the community to get tested and assured that the testing is for everyone and there will not be any type of discrimination despite the person status.
Jacobs said the supermarkets will open on Friday, April 17th to allow further grocery shopping, after that she said shops will be closed until next week as the lockdown continues.
Social Services also received another container with food items and boxes will be prepared for the less fortunate, or those that signed up with the Department of Social Affairs.
With the new national decree, supermarkets and other essential businesses will open at least 3 times a week to allow residents to shop for groceries.
Jacobs said warned that only one person will be allowed to go shopping for their families in the near future.
While the lockdown continues, supermarkets will continue delivering food items that are ordered online or by WhatsApp.