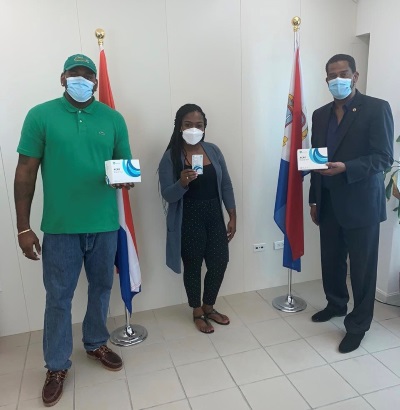 PHILIPSBURG:--- In 2020 budget meeting member of parliament Omar Ottley stressed on the importance of mass rapid testing. This method has been adapted all over the world in places like America, Asia, and even Europe.
The MP went on to state that now is the time to exercise all options. The current method used by the government of St. Maarten is a PCR swab test done through the nasal area and goes to the throat.
Ottley went on to state that he is not at odds with the EOC or the epidemiologist but urges them to utilize both the PCR swab test and antibodies testing.
"While there are arguments about the accuracy of the rapid antibody test being only 90% accurate as opposed to the desired 97% accuracy of the RT- PCR Test. Allow me to use a quote from science experts in the Uk (Britain) daily mail. The inaccurate test is better than none."

Ottley went on to state that the rapid tests can be used for those persons being released from quarantine, as no tests are presently being done upon their release. In America, for example, persons are now required to receive two negative tests before release to prevent a second wave of infection as genomic scientists predict that majority of the world will be faced with.

There is a major dispute that suggests that the antibody test can only detect IgG antibodies and can only determine if a person had the virus.
During budget debate Ottley presented the argument found by leading medical experts, that the body also produces IGM antibodies which are your body's first line of defense once pathogens (virus) are present.
" To make it simple IgM means you have it, and IgG means you had it" Ottley said. With the Rapid Test, this antibody (IgM) is used to determine if you are actually infected.

The Honorable Prime Minister Silveria Jacobs told Ottley that they will review the rapid test kits presented and she also stated that St. Maarten was on the verge of receiving RIVM certified rapid test and this will allow CPS to conduct both methods of testing. Ottley replied that he was happy to hear this and looks forward to the new development, to further help the people of St. Maarten.
MP Ottley mentioned that the total sum of Naf. 38,700 has already been pledged, to go solely towards the purchase of RIVM certified rapid test kits, by Checkmate Security Company, Motorworld, Keianna Liburd, and Garden Boyz N.V.

Ottley also stated that he would like to extend gratitude to Carbon Acquisition Group, Commodore N.V., and O & Eric Construction B.V. for the donations towards the purchase of the first batch of rapid test kits for the fight against COVID-19.