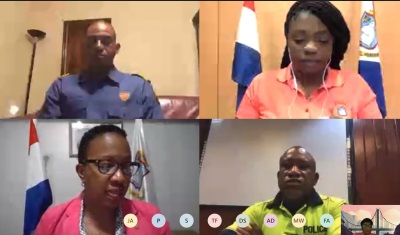 ~ De-escalation process begins with stiff social distancing measures and facial masks must be used.~
PHILIPSBURG:--- The EOC and the Multi-Disciplinary Task Force have decided to allow a number of businesses to reopen as of Monday, May 11th which is phase 1 of the de-escalation process. Prime Minister Silveria Jacobs said that phase 1 ends on May 18th and by then other businesses will be allowed to open for business. Those businesses that are allowed to open as of Monday, May 11th are:
CONSTRUCTION COMPANIES
RESTAURANTS (only for DELIVERY DRIVE THRU AND PICK UP)
FINANCIAL SERVICES MONEYGRAM SERVICES
TEXTILES, SEAMTRESSES, AND TAILORS
LANDSCAPING
HORTICULTURE
HARDWARE STORES "

curbside sales

( for hurricane season preparation.)
SALE OF AUTO AND MARINE parts (PICK UP OR DELIVERY)
DAYCARE CENTERS AND EARLY STIMULATION EDUCATION (Optional)
INSURANCE COMPANIES CAN NOW OPEN TO THE PUBLIC.
The businesses that are allowed to reopen for the five-day workweek will be opened from 8 am to 6 pm.
Jacobs said that persons wishing to cross the border must request waivers at least 24 to 48 hours in advance. The Prime Minister said while the de-escalation has started the nightly curfews will remain in effect in order to maintain proper safety and security for the residents and businesses.
Prime Minister Jacobs said that the multi-disciplinary task force has recommended that the State of Emergency remain in effect while the de-escalation takes place while the border controls will also remain in effect.
Jacobs said that the Dutch and French meet weekly to discuss the de-escalation (deconfinement) period as the two sides are synchronizing and have shared plans. Jacobs explained that a National Decree has been prepared and sent to the Governor for his perusal. She said that when this LB is signed off then it will be published so that all businesses can prepare themselves for the new norm on social distancing. The Prime Minister said that it is expected that all businesses will reopen by July if there is no flare-up of COVID-19 cases.
Jacobs said that persons outside of St. Maarten for medical purposes will be returning to the island and these persons will be placed in mandatory confinement.
Students studying abroad and have to return home should contact the Study Financing Department in order for arrangements to return home. Jacobs said that these students would also have to make a mandatory agreement with CPS regarding mandatory isolation.
Head of Public Health Fenna Arnell said that the COVID-19 pandemic with regards to positive cases has now stabilized. Arnell said that there have not been any positive cases for the past 11 days. At the moment there is an increase of cases in isolation, while 4 persons are hospitalized with two ready to be discharged, while one person passed away bringing the total of deaths to 15. 46 persons have recovered with 15 active cases on St. Maarten.
Arnell said that CPS continues with its community outreach and as of May 7th they visited 5 districts and have had contact with 5,132 persons. Some 36 persons had self-reported symptoms. Arnell who is part of the Multi-Disciplinary Task Force said that while a decision was taken to allow more businesses to reopen it is highly recommended that every one that is returning to work should wear face masks, and practice a 2-meter social distancing. Arnell said that the only way to avoid a resurgence of COVID-19 the social distancing and hygienic measures must be implemented and respected.
Secretary-General of the Ministry of VSA Joy Arnell said that the food distribution continues, she said a number of organizations join the government in handing out food boxes to those that are in need. She said so far over 4000 boxes were delivered. Arnell said the government is still looking forward to the promised donations from the Netherlands and the United Nations to continue assisting the vulnerable and those in need.
Secretary-General of the Ministry of TEATT Miguel de Weever called on businesses to ensure they adhere to the social distancing and hygiene measures such as sanitizing their establishments which are mandatory. De Weever said controls will be done and those businesses that violate the measures will be shut down.
While schools are on the second phase to reopen, this will be decided by the school boards, Prime Minister Silveria Jacobs said that focus will be placed on examination students. She said that parents whose children are able to follow online classes should not rush to send their children to school, however, students who could not follow online classes for whatever reason will be given some preference and or attention.
Click here for LB signed off by Governor Holiday for the reopening of Additional Businesses in phases.