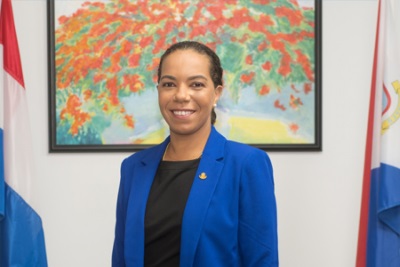 ~ St. Maarten tourism industry depends on American tourists. De Weever.~
PHILIPSBURG:--- Minister of TEATT Ludmilla de Weever announced on Wednesday at the Council of Minister's press briefing that St. Maarten is preparing to receive its from an international flight from Atlanta on July 2nd. This comes amidst pending decisions of the European Union to ban flights from North America due to the amount of COVID-19 cases that are still active in the United States.
De Weever said the first flight is expected to have 75 passengers which could be both visitors or residents. She said that St. Maarten has laid down several conditions such as the PCR testing that passengers must have in their positions at least 72 hours before boarding the flights.
Asked about St. Maarten's decision to accept flights from North America knowing the risks involved with the spread of COVID-19. The Minister said St. Maarten has no other choice because the country's tourism industry depends largely on American visitors. " Based on data St. Maarten gets 70% of its visitors from the United States and while there are concerns the country is doing everything when it comes to precautions and guidelines, however, the economy of St. Maarten also falls under my Ministry and I have to do everything to revive the economy for survival."
St. Maarten has already opened its borders to several Caribbean Islands, including the BES. As of June 22nd visitors and nationals from St. Kitts and Nevis, Antigua and Barbuda were added to the list. However, those passengers had to be at least 14 days on the island they departed from.
In the meantime Prime Minister Silveria Jacobs said that passengers will have to wear masks when disembarking from the aircraft while there will be limited movement at the Airport, CPS will continue to monitor and be available to visitors in the event anyone develops COVID-19 related symptoms.
The Prime Minister also said that St. Maarten had one positive case of COVID-19 in the past 54 days while there has been no positive case in the past 44days.