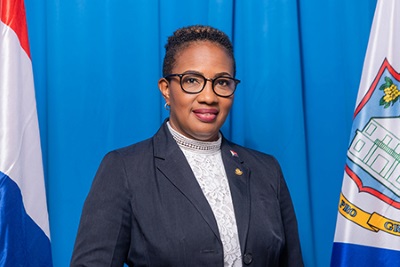 PHILIPSBURG:--- St. Maarten's Prime Minister Silveria Jacobs said on Wednesday during the Council of Ministers press briefing that St. Maarten has not yet received the capital investments for the year 2019 that were approved.
Prime Minister Jacobs said so far St. Maarten has not received any information on the entity the Dutch Government wants to establish on St. Maarten for the dissemination of funds. Jacobs said that St. Maarten has to go through the Netherlands for any financial assistance, she said this is based on the agreements made during the dismantling of the Netherlands Antilles including financial supervision due to lack of proper financial management by the countries.
The country's Prime Minister said that government has had several meetings with the unions regarding the conditions set down by the Dutch Government before any relief could be had post-COVID-19, she made clear that the unions understand governments' position with the conditions imposed because the government of St. Maarten is in disagreement with the conditions. Jacobs said that the unions are not protesting against the government of St. Maarten but in fact, they are protesting against several things that were imposed on St. Maarten post-hurricane IRMA. Jacobs said her government has more meetings with the unions in recent weeks than they have had with governments over the past 10 years.
Jacobs said her government clearly had no choice when they decided to cut 50% of the vacation pay for civil servants for two consecutive years, all of which was clearly outlined to the unions.
Jacobs since taking office never hesitated to represent the country from the time they took office as an interim cabinet. She said that she and the Minister of Finance traveled to the Netherlands to lobby for liquidity support because St. Maarten's economy was bouncing back in 2019 two years post-hurricane IRMA the Dutch Government was hesitant to release the funds.
Jacobs said St. Maarten is yet to receive its capital investments for 2019 even though it was approved in the budget 2019 and was supposed to release by September 2019. These funds she said were to be used to increase the country's financial management and the repairs of the prison.
Jacobs said the unions are in their rights when their protest that is currently taking place throughout the island.