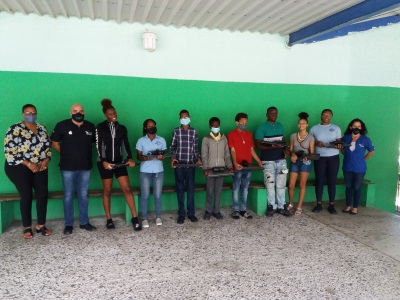 PHILIPSBURG:--- Since COVID 19 has plunged all students on Sint Maarten head over heels into online learning at home, we have experienced a steep learning curve in digitizing education. Challenges with the internet reception and lack of having a proper device have, however, hampered us from providing equitable education: not all students were able to follow the online classes. Since social distancing rules may warrant a form of distance learning also in the academic year 2020-2021, SVOBE schools have been searching for solutions for their students without well-functioning devices at home.
Fortunately, several companies on Sint Maarten have jumped on the bandwagon: one of them is a well-known technology firm MVG Technology. They launched a student laptop recycle program a few months ago, whereby they requested companies and individuals to donate their used laptops. MVG Technology then fixes the laptops and donates them to students.
On June the 29th, 8 students from Milton Peters College and Sundial School received a laptop, which had been made available by the American University of the Caribbean School of Medicine in Cupecoy and was refurbished by MVG Technology.
The students and the schools are very appreciative of this wonderful and helpful gesture and hope that
-despite the economic hardship due to the pandemic- a lot more students will be able to receive and take good care of a device for their schoolwork.
Right now MVG is looking for donated laptop batteries, to be able to fix more donated laptops and provide them to students (MVG: (+1721) 5444177).