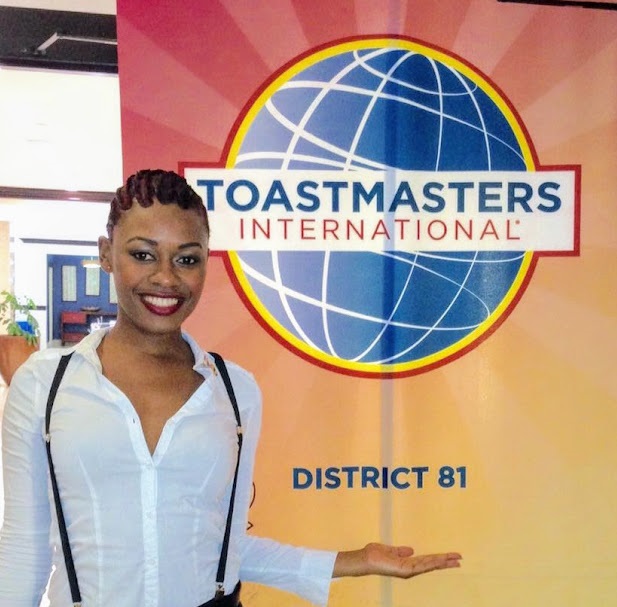 PHILIPSBURG:--- The vibrant and enthusiastic Tamara Groeneveldt began her Toastmasters Journey in 2012 after hearing Leona Marlin Romeo (who later grew to become her club member and the former Prime Minister of St. Maarten) speak at their elementary school reunion. Tamara knew immediately that she had to visit the club that developed such an eloquent speaker of Mrs. Marlin Romeo.
She visited the Soualiga Corporate Toastmasters club (SCTMC) with her accountability partner, Sanjana Manek, and they both fell in love with the power of words, communication, and the leadership displayed. Tamara automatically knew that she had to join this platform that promised personal development, networking opportunities, and most importantly, fun while learning.
Toastmasters allowed Tamara to explore islands such as St. Lucia, Curacao, Jamaica, Haiti, and St. Croix via conferences. She rejuvenated the club at the time she became the Vice President of Education (VPE) with exciting themes such as "A Day at the Beach, Toastmasters got Talent, Thriller, Men are from Mars and Women are from Venus (Space theme)" and much more exhilarating themes that intrigued Toastmasters from around the island to visit or join the club. She was always sure to stimulate one's senses by setting the room with visuals, lighting, temperature, and audio and even coordinated taste by having the snacks compliment the theme.
Tamara did not always aspire to become a Distinguished Toastmaster ( DTM). However, after one of her mentors sat her down at a district conference and encouraged her to shoot for the moon, it sparked a fire within her to complete the program for the years of dedication and commitment that she poured into her personal/professional development and the organization.
She later moved on to become president of the SCTMC and had the pleasure of representing territory St. Maarten in a District 81 International Speech contest in 2016 where for the first time, she met her Toastmaster cousin, Olivia Groeneveldt (now deceased) of Aruba while standing in the registration line. The club became President Distinguished under her leadership. Her role as Area Director took her to St. Eustatius where she worked diligently with the relatively young and budding club. While every role brought along its own lessons, one of her proudest successes on her Toastmasters journey was coaching her current home club, the Cupecoy Sunset Toastmasters Club. In her opinion, "this position brought all the acquired teachings of Toastmasters together in one role being: research, analysis, evaluation, planning, communication, motivation, delegation, innovation, mentorship, and leadership."
Overall, the journey has been nothing short of amazing and she knows that she could have never made it this far without the mentorship of those Toastmasters who guided her along the journey. So today she would like to thank them for not just showing her the path, but ensuring that she was prepared to withstand whatever came her way along the journey of becoming DTM Tamara Groeneveldt.